Corrie's Tina O'Brien: Sarah is so fragile 'she believes Callum might still be alive!' (VIDEO)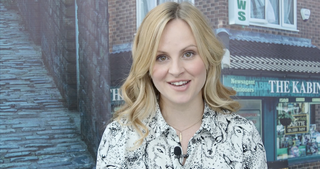 Millions of us tuned in to watch David hastily bury Callum's corpse down a manhole following his brutal murder by Kylie in Coronation Street. However one person who didn't see the actual body being disposed of was Callum's ex Sarah.
With Callum's body about to be unearthed this week Sarah is in complete meltdown and even starts thinking her drug-dealing ex could still be alive!
Tina O'Brien explained to What's on TV: "Sarah's in a very bad place of denial... What's happened is so bad she can't process it. She didn't actually see what happened to the body and her brain starts telling her other things. She starts to think Callum might actually be alive!"
Already at breaking point, things are about to get a whole lot worse for the fragile mum, when her violent partner's rotting corpse is finally discovered following a dramatic and shockingly unpredictable sequence of events that unfold this week.
The Platts are terrified as the police swoop in and a murder investigation gets underway. However David will stop at nothing to protect his wife, killer Kylie, who dealt the fatal blow to Callum's head, and in forthcoming scenes, he cunningly manages to point the finger of blame at another ex of Sarah's – Jason!
Tina said: "David realises Jason had access to the manhole and the murder weapon, because he was building there."
But how will Sarah react to this latest twist? And will the heat be taken off Kylie? One thing is certain, with Paula Lane, who plays Kylie set to leave the soap, David's wife won't be sticking around.
Tina, for one, is downcast about Paula's imminent departure: "I'm gutted she's leaving, but she's a brilliant actress and I'm sure she'll never stop working."
So is Kylie about to get her comeuppance and be bundled away in handcuffs, will Jason be feeling the heat as David diverts the investigation towards the innocent builder, or can the murder possibly be pinned on someone else entirely?
Find out in Coronation Street, ITV, at 9pm on Tuesday, Wednesday and Thursday this week.
Watch our chat with Tina O'Brien, above"]
Get the latest updates, reviews and unmissable series to watch and more!
Thank you for signing up to Whattowatch. You will receive a verification email shortly.
There was a problem. Please refresh the page and try again.