'Daniel is bringing secrets to Weatherfield,' reveals new Corrie star Rob Mallard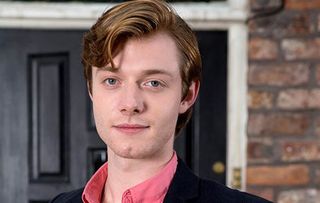 Remember Ken Barlow's son Daniel, the boy he had with Denise Osbourne? Well, Daniel's back on the Street… actor Rob Mallard talks about his arrival
Ken Barlow is thrilled to see his son Daniel Osbourne turn up… But the rest of the family aren't so impressed, Rob Mallard reveals to Soaplife magazine...
What's brought Daniel to Weatherfield? "He heard about his father's stroke. None of the other Barlows are sure who Daniel is until it's revealed he's Ken's long lost son – they've never met him before and are very mistrustful of him. Ken [William Roache] clearly dotes on Daniel, though. He is very proud that one of his children has gone to university and obtained a first class degree."
How does Daniel get on with the rest of the Barlows? "He's very much the outsider. He hasn't seen his father since he was a child while Ken's grandson Adam [Sam Robertson], Peter [Chris Gascoyne] and Tracy have a shared history with Ken."
What kind of character is Daniel? "He's reserved and has his guard up with everyone, but that's because he feels he has to. Daniel is rather calculated. He prefers to sit by the side and assess what's going on, but he is like that for a very good reason…"
And what's that? "Daniel is bringing secrets to Weatherfield and so he is terrified that everything is about to unpick itself."
He clashes with his brother, sister and nephew pretty much straight away, doesn't he? "Yes – Daniel's very organised and draws up a care rota for Ken, who's about to be discharged form hospital. The rest of the family, who are completely disorganised, see this as a takeover. Tracy [Kate Ford] is especially put out."
Why? "For ages, it's just been her and Ken, but now she's having to juggle for position with these three extra male egos. There is a struggle for power and because Daniel is so capable, it wrong-foots the rest of the family."
Are you excited to be part of the growing Barlow clan? "Very - the Barlows are the longest-running soap family and they've had some of the best storylines. With the Barlow family growing like this, it's right back to old school Coronation Street with drama in the terraces."
Coronation Street, ITV
Get the What to Watch Newsletter
The latest updates, reviews and unmissable series to watch and more!