'I want Eva and Maria to have a full-on fight,' says Corrie's Catherine Tyldesley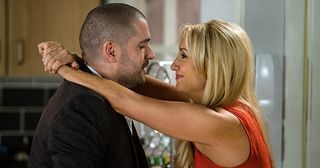 (Image credit: Mark Bruce)
Corrie's kind-hearted Eva Price unwittingly pushes love rat Aidan back into Maria's arms, star Catherine Tyldesley tells Soaplife…
Eva has no idea her fella, Aidan, cheated on her with Maria. So she doesn't know the heartbreak she could be setting herself up for when she encourages their friendship, Corrie's Catherine Tyldesley explains to Soaplife.
Why does Eva tell Aidan to spend the night at Maria's flat? "Maria's in a very bad way because of the fallout from Caz Hammond's disappearance and fears over the repercussions of her sham marriage to Pablo. So Eva, being a good friend, says Aidan [Shayne Ward] should stop over at Maria's to make her feel more secure.
"Eva's a very caring person and she really sympathises with Maria [Samia Ghadie] because she's going through such a lot. She just wants to be a caring friend. Eva also feels a bit guilty because her life seems so good right now."
What kind of state is Maria in when Eva comes to her rescue? "She's in a bad way. She's suspected of murdering Caz [Rhea Bailey], plus there are the repercussions of her illegal marriage to Pablo to deal with. Maria even pushes Michelle [Kym Marsh] in the pub because she thinks the mum-to-be is gossiping about her. And there's more…"
What? "A big row with Aidan's sister, Kate, who is Caz's ex and wants to know what happened to her. This makes things awkward for Eva because she sees Kate [Faye Brookes] as family. Then an increasingly hysterical Maria finds a pair of bloodied scissors in her hairdressing bag!"
OMG! "Eva immediately comes to the rescue and orders Maria and Aidan to get rid of them."
Is this when Eva suggests that Aidan stay with Maria? "Yes. Maria's very scared, so it makes perfect sense to Eva that big, strong Aidan stops over for the night. Eva's completely unaware that in a roundabout way she's pushing Maria and Aidan closer together. She feels confident enough for her man to stay at another woman's house – and that's a massive leap for Eva because she has been cheated on so many times."
How does Aidan react to the suggestion? "Aidan's shocked and he also feels slightly awkward. He doesn't want to show his feelings for Maria too much, but he does agree to the idea in the end."
Eva's bound to find out about Aidan and Maria. How do you want her to react? "She'll want revenge on them both, but she'll really gun for Maria. The 'girl code' about not cheating with a friend's man is very important to Eva."
Are we talking cat fight? "I hope so! It would be loads of fun and, although I've poured a lot of pints over heads, I've yet to have a full-on cat fight. Eva will go for it – and, personally, I think Maria deserves a kick up the backside!"
Coronation Street, ITV
Get the latest updates, reviews and unmissable series to watch and more!
Thank you for signing up to Whattowatch. You will receive a verification email shortly.
There was a problem. Please refresh the page and try again.