'It's game over for Neil,' reveals Coronation Street's Ben Cartwright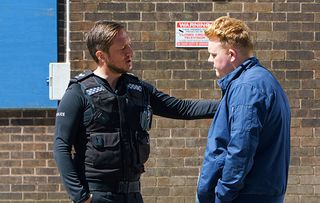 (Image credit: Mark Bruce)
Thanks to the efforts of Craig Tinker, police officer Neil Clifton will get his comeuppance, Coronation Street's Ben Cartwright reveals
Soapland baddies always get what's coming to them. Finally, it's the turn of rapist police officer Neil Clifton and it's all thanks to Bethany Platt's hero, Craig Tinker, who knows what Neil did.
"It's becoming increasingly more evident to Neil that Craig isn't going to let it go and he goes into panic mode," Ben Cartwright told Soaplife.
What happens between Neil and Craig? "Neil bundles Craig into his car because he's certain he's about to blow the whole thing. Neil's scared. He's used to being in control. But trainee constable Craig [Colson Smith] knows what Neil's really like, so he's not at the moment."
Considering his crimes, is Neil a totally unredeemable character? "He's probably a very good policeman. Craig's talked about how great a mentor Neil is and that he loves working with him. It's important to show that side of him. The whole point of this storyline is the characters are layered and believable."
How does Neil feel when he's called to see the Chief Inspector after Craig's told the police everything? "From my point of view, it was horrible to walk into a room and see six or seven people giving you daggers, shaking their heads and looking at you in disgust. It's clear, at that moment, it's game over for Neil."
Did you have any reservations about the storyline? "I'm incredibly grateful that I took the role. The response has been really positive from people who've recognised me playing a character, appreciating how amazing the storyline has been, how brilliantly it's been handled and what an important story it is to bring to everyone's attention."
How important do you think it is for Corrie to show justice being served? "There's no other option than to see these guys get their comeuppance. Coronation Street have taken their time about it. This has been rumbling on since last Christmas and that's important because it shows the reality of slowly getting under someone's skin, manipulating them and taking them away from their friends and family."
Coronation Street, ITV
Get the latest updates, reviews and unmissable series to watch and more!
Thank you for signing up to Whattowatch. You will receive a verification email shortly.
There was a problem. Please refresh the page and try again.