Georgia Taylor: Being Peter Barlow's love interest is why I agreed to come back to Corrie!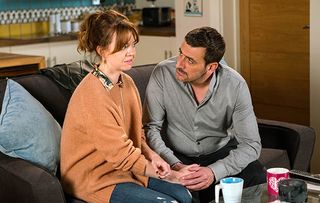 Corrie's Georgia Taylor explains why she returned to the Street and reveals there's fireworks ahead when the identity of Toyah's mystery boyfriend is uncovered by Leanne...
It's set to be a huge week for Corrie's Toyah Battersby when Leanne looks in danger of discovering her big secret – that her sister's new boyfriend is her very own ex husband, Peter Barlow!
Actress Georgia Taylor tells us about the possible ramifications for the Battersby siblings, and reveals that she loves playing Peter Barlow's latest lover…
What did you think when you found out that Toyah was going to be Peter Barlow's love interest? "That was honestly one of the main reasons I agreed to come back to Coronation Street. I just think Chris Gascoyne (who plays Peter) is such a great actor, and there is always going to be drama around that character and the fact that he was previously married to Leanne. So I was coming back to guaranteed drama and guaranteed storylines with great people."
What is it like working with Chris? "Just brilliant. My first day's filming was in bed with him all day at a hotel. We were thrown in at the deep end – literally in a bed all day! But it ended up being the best way to start working together, because it broke the ice and we just had to get on with it. We ended up having a proper laugh and it made us very relaxed. You can't have any inhibitions if you want the audience to believe that these people have been together for six months and are genuinely in love and at that very passionate stage of their relationship."
What is it about Peter that attracts Toyah? "He has that twinkle in his eye and is very charismatic. Chris has a natural charm about him that you can't deny, which comes across on screen. But I think that because Toyah has previously worked and trained as a counsellor and she has found herself drawn to someone who is a recovering alcoholic, who has a huge amount of his own demons, then ethically and morally that could be questionable. The fact that she comes professionally from that background and now she is with an addict, maybe she thinks she can fix him. And in trying to fix someone else, you can ignore your own demons."
What do you know about their relationship history? "The story is that Toyah was visiting a friend in Portsmouth and they bumped into each other in a bar and got chatting. She was in a very vulnerable place as she was in a relationship that wasn't working. Had she been happily married it would probably have just been a brief chat and a drink and they would've gone their separate ways. But it is all to do with timing, and they ended up having an affair."
Why haven't they told Leanne about their relationship before now? "Because Toyah is fearful of what the reaction would be. She doesn't think Leanne is still in love with Peter, she can see how devoted she is to Nick, but still it is kind of strange isn't it, getting involved with your sister's ex husband!
"The initial plan was not to keep it a secret; they made the pact at Christmas to 'rip the plaster off and deal with it', but then Leanne had a scare with the pregnancy and was told stress could be bad for her and the baby so that moment was gone. Again it is all to do with timing. From then on there hasn't been a right time and it drags the process out. But along the way, other people have found out so they are living on borrowed time."
What do you think it will it mean for the sisters' relationship when Toyah's secret comes out? "I think the biggest thing is the act of betrayal. Leanne would get over the fact that she is with Peter if only she had been honest with her. Jane Danson (who plays Leanne) and I have talked about this. They grew up together and went through so much together. They are sisters not in blood, but in every other way. They are best friends and she hasn't told her about a significant relationship – or that her marriage was in trouble because of going through unsuccessful IVF treatment. It is the betrayal of that sisterhood and Leanne feeling that they are not as close as she thought they were."
Toyah wants to become a mum. Do you think Peter Barlow would be a good father for her children? "When he is on good form and he is sober and at his best, he has glimmers of being a wonderful dad. But obviously, his behaviour and addiction has got in the way in the past. If he stays on the straight and narrow then potentially, he could be. But this is soap so is he going to stay in the straight and narrow?"
Alison Slade has over 20 years of experience as a TV journalist and has spent the vast majority of that time as Soap Editor of TV Times magazine.
She is passionate about the ability of soaps to change the world by presenting important, issue-based stories about real people in a relatable way.
There are few soap actors that she hasn't interviewed over the years, and her expertise in the genre means she has been called upon as a judge numerous times for The British Soap Awards and the BAFTA TV Awards.
When she is not writing about soaps, watching soaps, or interviewing people who are in soaps, she loves going to the theatre, taking a long walk or pottering about at home, obsessing over Farrow and Ball paint.
Get the latest updates, reviews and unmissable series to watch and more!
Thank you for signing up to Whattowatch. You will receive a verification email shortly.
There was a problem. Please refresh the page and try again.