'Jason can't hold back when he sees Eva and Tony together,' reveals Corrie's Ryan Thomas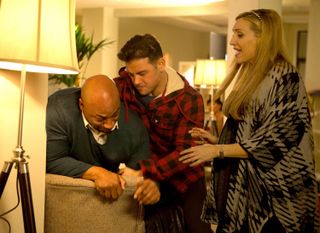 Ryan Thomas reveals to Soaplife what happens when Jason sets out to catch Eva and Tony together, after being convinced by Todd that they're having an affair...
Eva's phone is answered by a hotel receptionist… Why?
"Unknown to everyone - including Jason, of course - Todd [Bruno Langley] has stolen Eva's phone and handed it in to the reception of the hotel where Eva and Tony have gone for a property auction. It's another of Todd's dirty tricks."
Yeah, Todd's been working on this evil plan for a while…
"It probably really started when Todd encouraged Jason to go to Eva's flat to look for her. Jason walked in and found her sat with Tony after they'd been to view some flats together. They told Jason Tony had given Eva a lift from home from town, but Jason felt uneasy about it. Plus, of course, there are Todd's other subtle but lethal hints."
Does Jason honestly believe that his dad and girlfriend would do the dirty on him?
"Jason has always felt a bit threatened by his dad around Eva [Catherine Tyldesley]. Tony's a charmer and Eva's always got on with him. At Christmas, for instance, Tony [Terence Maynard] bought Eva her favourite perfume whereas Jason got it wrong. None of this would be enough to make Jason seriously think Eva and Tony were having an affair, but Todd's stirring puts ideas into Jason's head. When he then keeps finding them together, whispering and giggling, he thinks there must be something going on."
So what happens when Jason turns up at the hotel?
"Eva and Tony are sitting in the bar drinking champagne. Even though he's had suspicions, to see them looking so intimate knocks him sideways. He completely sees red with Tony and can't hold back…"
He hits him?
"Like I say, he can't hold back."
Then Jason finds out that Tony's actually bought them a house…
"And he's absolutely devastated. He can't believe he's let his paranoia grow to this extent. Jason's mortified he caused such a scene before finding out the facts."
Is that why Jason proposes to Eva?
"Jason is desperate to make things better and to show Eva how much he loves her. He doesn't know what else to do. Todd encourages him to do it as well because Todd knows that it will annoy Eva."
Is he certain she's the one?
"Positive. He loves her to bits and is devastated to think he might lose her and it all be his own fault."
Coronation Street, ITV. Click here for dates and times.
Get the What to Watch Newsletter
The latest updates, reviews and unmissable series to watch and more!