Corrie's Sally Ann Matthews: 'Jenny's wedding won't go without a hitch!'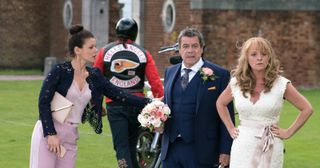 As Jenny finally realises that her mother figure Rita Sullivan is not well, it's touch and go whether she makes it to her wedding on time, reveals Sally Ann Matthews…
Coronation Street star Sally Ann Matthews has given Soaplife an interview about Jenny's very eventful wedding day!
What's the story?
Things aren't exactly going to plan so far as Jenny's dream wedding day is concerned. For a start, she's having to have a double 'do' with Eva Price and Aidan Connor – and then the penny finally drops that her mother figure Rita is ill. 'Jenny's been so busy turning into a bridezilla, she's been totally oblivious to any health scare Rita may be having and whenever anyone's tried to point it out to her, she's just too preoccupied by the double wedding she's been forced into,' actress Sally Ann Matthews told Soaplife. Will Jenny Bradley ever become Mrs Johnny Connor?
What's happening in Coronation Street? See the latest Coronation Street storylines
Sally Ann Matthews' interview with Soaplife
Soaplife: Where is Jenny and Johnny's wedding?
SA: "It's at a huge stately home and it's absolutely amazing. Epic. It certainly beats the Bistro or the Rovers. Jenny's not best pleased at the prospect of Eva stealing some of her thunder but it is an amazing venue and Jenny does have a beautiful dress."
S: And she's willing to sacrifice all this to be with Rita?
SA: "All I can say is that potentially, the discovery that Rita isn't so well and needs to have some tests affects what happens. At this point we see her re-evaluating her relationship with everyone. It's about love. While she likes all the trappings of this posh wedding, she does love Johnny and that's the over-riding thing."
S: Doesn't sound much like the Jenny we know – and sometimes love to hate!
SA: "Jenny's crazy bonkers but if she's happy, she's happy. She doesn't spend her time looking for an opportunity to make things better or to upset somebody - she'll just motor along nicely, but then someone will come along and cross her and then she reacts off the scale. She doesn't instigate, though. She just wants to be happy, whether that's poor as a church mouse or super-snobby lady of the manor."
S: We've heard rumours of a mad, motorbike dash to the wedding venue!
SA: "Well it's a Corrie wedding so it won't exactly go off without a hitch! It's not just one story this wedding week - they're all intertwined. Everybody's reactions and interactions are so genuine and you can clearly see why the characters react in the way they do. It's mega! In years to come, it'll be one of the classic Corrie clips that gets shown over and over again."
Get the latest updates, reviews and unmissable series to watch and more!
Thank you for signing up to Whattowatch. You will receive a verification email shortly.
There was a problem. Please refresh the page and try again.