Mollie Winnard: Kayla Clifton seduces Craig Tinker in Coronation Street!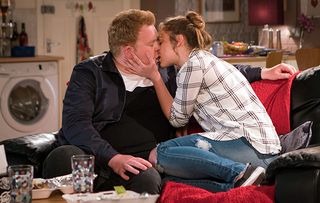 (Image credit: Andrew Boyce)
Twisted copper's daughter Kayla Clifton will stop at nothing to get her dad out of jail, reveals Mollie Winnard
With a dad like dodgy copper Neil Clifton, it's no surprise that Kayla Clifton has messed up. But her dad is her whole world and when he loses his appeal against his sentence for abusing Bethany Platt, Kayla is determined to do whatever she can to help him and in her twisted mind that means manipulating Craig Tinker in the cruellest way possible.
What's the story?
"Her dad, Neil, losing his appeal changes everything for Kayla," says Mollie Winnard, who plays daddy's girl Kayla. "At first, she was just trying to gather information for the appeal but the minute it's rejected and her dad says to her, 'I am going to die in prison,' she makes the decision to do whatever it takes to protect her dad." Craig – oblivious to Kayla's true identity – is like a lamb to the slaughter…
What's happening in Coronation Street? See the latest soap storylines…
Coronation Street's Mollie Winnard tells Soaplife about Kayla Clifton sleeping with Craig Tinker as part of her devious plan…
Soaplife: First, Kayla dumps Craig, then she tells him she wants him back. Why?
Mollie Winnard: "Her plan is back on. She believes Craig knows that Bethany has lied about Neil abusing her, that he can't cope with that fact and it's what triggered his OCD. She wants to bring the subject back up."
http://www.youtube.com/watch?v=JMPRL9v5cUU
S: What happens when they go back to Craig's flat?
MW: "She tells Craig she loves him and she sleeps with him to make him feel this attachment towards her. She is definitely messing with him and taking advantage."
S: Does she have feelings for him?
MW: "There is an element of her feeling bad for sleeping with Craig because she doesn't love him. She has spent a lot of time with Craig and knows he's a lovely person but she feels she needs to do this for her dad. It's sheer desperation."
S: Is Craig in danger?
MW: "Yes Craig, Bethany and anyone who gets in Kayla's way is in danger. She is risking a lot. It is such a dangerous game she is playing, anything could happen!"
S: Does she feel guilty at any point of her plan?
MW: "When she is leaving Craig's place - the morning after she has slept with him - she is almost in tears. Part of her just wants to give up but she keeps on because she feels the love for her dad makes it all worth it.
S: Is she surprised at how far she is willing to go?
MW: "Yes, she is learning more about herself and what she is capable of along the way. But she is scared because if anyone finds out who she really is, she loses everything."
S: What is the best thing about playing Kayla?
MW: "She's fun to play because she has gone from being bubbly to crying to full of rage. I love the variety."
Coronation Street continues on ITV.
Thank you for signing up to Whattowatch. You will receive a verification email shortly.
There was a problem. Please refresh the page and try again.