Peter Barlow's troubles double when Simon turns to crime in Coronation Street!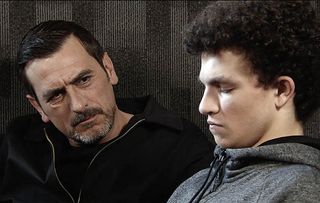 When his son is arrested on suspicion of burglary it's another blow for Peter Barlow in the wake of his baby nightmare, reveals actor Chris Gascoyne
Peter Barlow's life has turned into a nightmare. He's discovered the truth about baby Susie, split up with his partner Toyah Battersby, and now his son Simon gets hauled in by the police… how much can one man take?
What's the story?
Maybe it's karma for all the wicked stuff Peter Barlow's done in the past, because this week more trouble lands at his door. "He's been totally devastated since he found out baby Susie isn't his and that Toyah lied to him" actor Chris Gascoyne tells Soaplife. Now his fragile relationship with his son Simon goes further downhill when Simon in arrested…
What's happening in Coronation Street? See the latest soap storylines
Soaplife's interview with Coronation Street star Chris Gascoyne about Peter's Barlow's latest shock…
Soaplife: What's Peter's reaction at Toyah's attempt to salvage their relationship by trying to make him see a counsellor?
Chris Gascoyne: "He's stunned she thinks this is something that can be fixed through counselling. He thinks if anyone needs counselling, she does. Peter's not in the right headspace to be able to talk calmly to Toyah about any of this."
S: Can he ever forgive her?
CG: "They have been through such a lot together and he truly loved her but this is another level of betrayal. Peter's done some crazy things but this even transcends anything he has done. What Toyah did was really cruel and makes him question whether he knows her at all."
S: What about The Rovers?
CG: "The last place Peter wants to be at the moment is playing 'Mein Host' behind the bar with Toyah. He has come to a decision about what to do about the pub. Even living with his dad seems a better option than living there with Toyah."
Simon is in big trouble
S: Is Simon's behaviour getting worse because Peter has taken his eye off the ball?
CG: "Peter knew Simon was playing up and mixing with the wrong crowd but he thought he had sorted it all out. Peter's had a lot on his plate what with the baby business and running the pub, and Simon has suffered as a consequence. Although Peter feels he's been a good dad recently, just being around doesn't mean he has been present."
S: What's his reaction when Simon is suspended?
CG: "He is shocked. Matters are made worse because he misses a meeting with Simon's headmaster as he's seeing an estate agent about the pub. Peter and Leanne don't know what to do with Simon, who continues to lie about what he's up to."
S: What happens when Simon steals money from the cafe till and is then arrested on suspicion of burglary?
CG: "Simon won't discuss it. He won't snitch on his dodgy new mates and refuses to answer police questions."
S: Why is Simon hanging out with this new crowd?
CG: "Simon's never felt like he belonged and this gang make him feel like he is part of something. Peter has issues with his own dad and wanted it to be different for him and Si. But history is repeating itself."
Coronation Street continues on ITV.
Get the latest updates, reviews and unmissable series to watch and more!
Thank you for signing up to Whattowatch. You will receive a verification email shortly.
There was a problem. Please refresh the page and try again.