Rana Nazir's parents take drastic action when they catch her with Kate Connor in Coronation Street!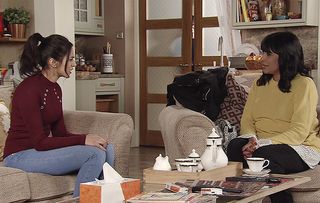 Rana Nazir is in big trouble when her parents walk in on her with secret lover Kate Connor, reveals Coronation Street star Bhavna Limbachia…
Rana's parents' sham marriage-for-money deal with Zeedan Nazir never included an option for Rana to secretly carry on seeing her lover Kate Connor. So, when they find out she is, they lose it completely, reveals Coronation Street star Bhavna Limbachia…
What's the story?
Zeedan Nazir loves his wife Rana, but she is in love with Kate Connor. Zeedan was hurt, humiliated and furious when he found out, but is going along with a sham marriage to save face and in exchange for money from Rana's parents to buy his own restaurant. Rana carrying on her affair with Kate wasn't part of the deal…
What's happening in Coronation Street? See the latest soap storylines
Bhavna Limbachia's interview with Soaplife about Rana Nazir getting caught with lover Kate Connor…
Soaplife: Zeedan has been sent away on an errand so Kate calls round at Rana's… what happens?
Bhavna Limbachia: "Rana's parents walk in on her and Kate enjoying some rare alone time and they're disgusted. They feel betrayed she's broken the contract and take drastic measures to make sure they can't be together."
S: Alya Nazir is with Rana's parents when they turn up. How does she react when she realises that her friend is gay?
BL: "That's an added complication. Alya lets Rana's parents into number six and also sees Rana and Kate together. It's difficult because Rana and Alya have been close friends since uni. Rana knows that Alya feels betrayed."
S: What do Rana's parents do?
BL: "Their relationship is very strained. Rana's mum calls to say she's going to Pakistan to see her dying sister and Rana agrees to go with her, believing it's the only way she can make things right. Rana feels so guilty and so ashamed of what she's done, she doesn't question anything."
S: Does it cross her mind that she could be walking into a trap?
BL: "She's too caught up in trying to do right by everybody. She knows she's disappointed her parents and brought shame on the family by breaking the contract, and this is the last hope for her to try to put things right. She's willing to do anything to win her family's love back."
S: What did you find out while researching this storyline?
BL: "I've been working with the Naz and Matt Foundation and have heard many stories about saving face in the Asian community. Parents can go to extreme measures to cover up anything they don't agree with, particularly regarding a child's sexuality. Physical violence and kidnappings are not uncommon. It's important to raise awareness and let people know support is available."
S: What might happen to Rana if she avoids going to Pakistan?
BL: "I'd like to think she can resolve things with her family to a certain extent but she is never going to be the same again after this week's episodes. The measures her parents take to force Rana and Kate apart are extreme. But they have been through so much and faced so many hurdles already, I hope the end goal to be together can be realised. They've fought this far, they'll be willing to fight all the way."
Thank you for signing up to Whattowatch. You will receive a verification email shortly.
There was a problem. Please refresh the page and try again.