Sarah's shocked by Nathan's age, reveals Corrie's Tina O'Brien. But does it make her suspicious?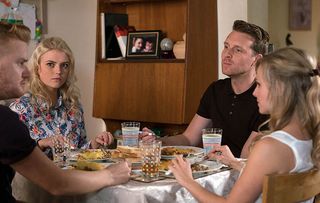 (Image credit: Mark Bruce)
Corrie's Sarah's surprised to discover just how old daughter Bethany's boyfriend is, Tina O'Brien tells Soaplife…
It's not often that Sarah Platt's lost for words. But finally meeting Nathan Curtis leaves her temporarily speechless. "Sarah knew Bethany's boyfriend was older because Rana Nazir told her," Tina O'Brien tells Soaplife. 'But she presumed it was just by a few years! Now it's immediately clear to Sarah that Nathan is older than she is!"
This meeting happens after Sarah invites him around, right? "Yes. She wants to find out who Nathan [Christopher Harper] is and what he's about because Bethany hasn't said much about him. By inviting him over for tea, she thinks she can be nosy and possibly take control of the situation better. The fact that Bethany is keeping so quiet about this new boyfriend makes Sarah very suspicious."
And then she meets him… "And while she's shocked and thinking, 'But he's so much older than Bethany', she tries to bluff her way through it. She feels the second she starts to question Nathan in front of Bethany [Lucy Fallon], it will make Bethany want to leave. Sarah feels that if she can let Bethany think everything is all right, then maybe Bethany will see for herself that this relationship is not a good thing for her. Sarah thinks by doing it this way she's more likely to keep her daughter close to her. She's desperate to not push Bethany away.
Is this anything like Sarah's "internet grooming" story in 2001? "There are similarities in that the man Sarah went to meet was also a lot older. She sees this as different, though, because Bethany's been bullied, treated badly in the past and has low self-esteem. She knows an older man showering Bethany with attention flatters her ego."
And what about Sarah's relationship with Gary? "She hasn't really had this kind of happiness before and it's nice for her to now have somebody who really cares about her after she had so much drama with Callum Logan. I'd happily have that continue because I love working with Mikey [North, who plays Gary].
Coronation Street, ITV
Thank you for signing up to Whattowatch. You will receive a verification email shortly.
There was a problem. Please refresh the page and try again.