Shayne Ward reveals Aidan had posted a suicide note to Johnny months ago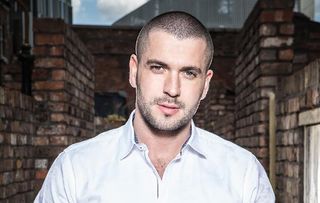 But he intercepted the letter from the postman, reveals Shayne
Aidan Connor is a victim of suicide next week, but actor Shayne Ward has revealed that his character actually planned to end his own life months ago - however he put it off so that he could donate a kidney to ailing sister, Carla.
Reveals Coronation Street's Shayne: "Carla was sick and needed a kidney, and he saw this as a way to finally do something good; to help someone. But by this point, he had decided that he was going to take his own life and posted a letter (to Johnny).
"When he found out about Carla, he intercepted the letter the next day from the postman outside his dad's flat. He stopped his family seeing the suicide note and he didn't go ahead with his plan at that point.
"There was a moment in the hospital when he was crying his eyes out, but tragically he kept all of that from his family, so there were no tell tale signs for his family to see. He didn't talk to anyone about how he was feeling. Everyone around him was so happy that (the transplant) had been successful. He didn't want to burden anyone with his thoughts."
Adds Corrie producer Kate Oates: "As writers and story tellers, we'd got ourselves to a point where Aidan was planning on doing it that night and he decides not to; he decides to hang on for Carla. It doesn't mean he's better, it doesn't mean he's sorted, he just decides to hang on that little bit longer.
"Within that period of story - between Aidan deciding to hang on and the episodes where he takes his own life - we see moments of hope and moments of him going back down, all skilfully and subtextually played by Shayne.
"So there was a letter, and that may be found in a subsequent episode."
Show bosses hope Aidan's tragic death will encourage discussion about suicide – the biggest killer of men under 45 in this country – and assure people who may have similar feelings of desperation that there is help and support available.
Writers, producers and cast members have worked closely with Samaritans and mental health charity CALM to ensure the storyline is told as realistically and sensitively as possible.
Suicide is preventable. For help and support, contact:
Samaritans on 116 123. Lines are lines open 24 hours a day, 365 days a year
CALM on 0800 58 58 58 (nationwide) or 0808 802 58 58 (London). Lines are open from 5pm to midnight, 365 days a year.
Coronation Street continues on ITV.
Get the latest updates, reviews and unmissable series to watch and more!
Thank you for signing up to Whattowatch. You will receive a verification email shortly.
There was a problem. Please refresh the page and try again.