'Sarah tries tough love with Bethany – and it goes horribly wrong,' says Corrie's Tina O'Brien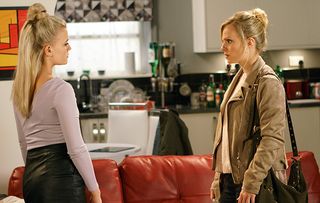 (Image credit: Mark Bruce)
Coronation Street's Tina O'Brien reveals all about Sarah's desperate bid to save her daughter Bethany from nasty Nathan...
Sarah is putting on a brave face but she is deeply unhappy about daughter Bethany's engagement to Nathan. Not wanting to alienate Bethany, Sarah invites her to a wedding fair, but Bethany doesn't turn up...
"Sarah goes round to Nathan's flat, where she finds Bethany alone, dressed provocatively and very drunk," Tina O'Brien told Soaplife. "They argue, but then Bethany passes out and Sarah can't get any response from her."
Does Sarah have any idea how Nathan has been using her daughter? "None. It's not something that would cross her mind. Sarah just thinks Bethany [Lucy Fallon] is just trying to fit in with much older people. Sarah would be totally horrified if she knew the truth."
How does she get Bethany home? "She calls Gary [Mikey North] and asks him to quickly come to the flat to help. Thankfully he does."
What happens next? "They're back at the Platts' when Bethany comes round. She's deeply distressed when she realises where she is. She tries to make a run for it and, when Gary blocks her way, she starts breaking things, then..."
How does Sarah react to this? "It is terrifying for Sarah to see her daughter in this state and she does start to wonder if Bethany is scared of Nathan [Chris Harper]."
Is Sarah scared of Nathan? "Sarah's is not scared for herself, but she is scared about what is going to happen to Bethany as she's clearly under his spell. She doesn't like Nathan, but she has no idea just how dangerous he really is."
What is the best course of action that Sarah can take? "Tough love. Sarah should try and keep Bethany under lock and key, but she has sort of tried that – and now it's has gone horribly wrong, she is at a total loss."
Coronation Street, ITV
Get the latest updates, reviews and unmissable series to watch and more!
Thank you for signing up to Whattowatch. You will receive a verification email shortly.
There was a problem. Please refresh the page and try again.