Tracy fears Amy tried to kill Ken! 'Like mother, like daughter,' says Corrie's Kate Ford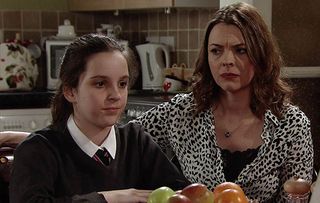 Tracy starts suspecting it was her daughter Amy who pushed Ken down the stairs…and she meant to kill him! Kate Ford shares her fears
Tracy Barlow can cope with being under suspicion for the Ken crime herself, but it's a different matter altogether when she starts suspecting that Amy might have done the deed in Corrie.
"There are certain things that make her think this – Amy says she hates Ken for not lending Tracy the money to buy the florists, there are a few things she mentions to her mum about Adam, and then Tracy discovers something that is very worrying," Kate Ford told Soaplife.
Before her concerns about Amy, who has Tracy been suspecting of pushing Ken? "Not Peter [Chris Gascoyne] because Tracy grew up with him, but it's different with Adam [Sam Robertson] because she doesn't really know him or what he's capable of. Likewise Daniel [Rob Mallard]. But Tracy thinks Adam is pointing the finger at her in order to deflect suspicion from himself. Adam and Tracy suspect each other – but now she's deeply concerned about Amy."
Does Tracy feel responsible for what she thinks Amy has done? "Tracy is wondering if she has created something in Amy that has caused her to behave in a crazy way because she has messed her up – that's what she is worried about. Tracy thinks if Amy has done something like that, then it's her fault."
Have you enjoyed filming this storyline? "I have and it has been really nice to have an extra dynamic, having fresh blood in the Barlows."
What's the best thing about being a Barlow at the minute? "I like being the only girl because it's fun and we have such a laugh. You really feel part of something – I always did, but more so now because the family has expanded. "
Do you think we almost saw a glimmer of a nicer Tracy at one point? "I think Tracy has been nicer for a while. She has still got the tendency to be bitchy and say the funny remarks, but I think she's softened and I like that. But if anyone does anything to harm her or her daughter, she will turn back into the bitch we know. "
Are you enjoying Elle (Mulvaney), who plays Amy, being more involved in storylines? Have you given her any advice? "Yes, she is getting older and we have some good chats. We give each other advice, she's very wise. She's great and such a good actress."
Do you reckon Amy will turn into Tracy one day? "I think she is getting there already! She is already trying to work out what she can get from people – she's really quite manipulative. Definitely like mother, like daughter!"
Coronation Street, ITV
Get the What to Watch Newsletter
The latest updates, reviews and unmissable series to watch and more!