TV Times' top 9 classic Corrie villains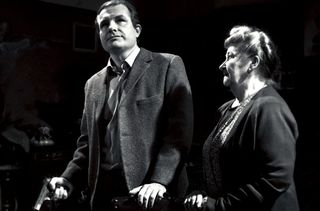 (Image credit: ITV/REX/Shutterstock)
Pat Phelan is back on Coronation Street next week and he's shaping up to be the latest in a long line of classic Corrie villains… Here TV Times Soaps Editor Alison Slade names her, in no particualr order, nine other Weatherfield ne'er-do-wells of all time…
What do you think? Has our Alison missed anyone? Let us know below in the comments section. There's an official TV TImes mug for our three favourive posts. Good luck everyone!
1 Joe Donelli (Shane Rimmer)
In 1968, American GI Joe murdered Elsie Tanner's second husband, Steve, and later held Irma Barlow and Minnie Caldwell hostage before turning the gun on himself….
2 Alan Bradley (Mark Eden)
Alan stole Rita's house deeds and impersonated her dead hubby, Len, and tried to suffocate the Kabin queen when she found out. He got off scot-free at his trial, only to be memorably bumped off in 1989, courtesy of a Blackpool tram
3 Terry Duckworth (Nigel Pivaro)
Last seen on screen in 2012, the despicable deeds of Jack and Vera's only child included selling his son Tommy, and doing a runner with money Jack paid him to donate a kidney
4 Jon Lindsay (Owen Aaronovitch)
Deirdre thought she'd landed on her feet when she met 'pilot' Jon in 1997. Jon actually worked in an airport tie shop and had involved an unwitting Deirdre in a huge fraud, which landed her in prison.
5 Jez Quigley (Lee Boardman)
Drug dealer Jez was behind the death of Tony Horrocks and the manslaughter of Des Barnes, and died while attempting to murder Steve MacDonald in 2000.
6 Richard Hillman (Brian Capron)
Dubbed 'Norman Bates with a briefcase' by wife Gail, 'Hillman The Kill Man' left businessman Duggie Ferguson for dead, and murdered ex-wife Patricia and crimper Maxine Peacock. In 2003, he kidnapped the Platts and drove them into the canal – he died, they survived.
7 Charlie Stubbs (Bill Ward)
Builder Charlie abused Shelley Unwin, and took up with Tracy after Shelley dumped him at the altar. In 2003, Trace found out he'd had an affair with Maria and clobbered him on the head with a heavy ornament.
8 Tony Gordon (Gray O'Brien)
Carla's second husband murdered her ex brother-in-law Liam after finding out about their affair. In 2010, he escaped prison, set fire to Underworld and died in the blaze.
9 Frank Foster (Andrew Lancel)
The former co-owner of Underworld raped Carla after she called off their engagement, and, in 2012, was murdered in the factory by mother, Anne.
Get the latest updates, reviews and unmissable series to watch and more!
Thank you for signing up to Whattowatch. You will receive a verification email shortly.
There was a problem. Please refresh the page and try again.