'My wife told me you need to go and earn some money now' reveals Chris Gascoyne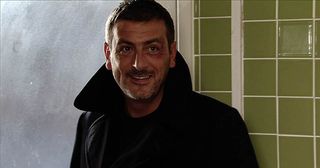 Chris Gascoyne tells Soaplife it wasn't entirely his idea to return to Corrie as Peter Barlow. His wife Caroline was pretty keen for it to happen, for her own reasons!
Peter Barlow actor Chris Gascoyne talks to Soaplife about his return to Corrie, and reveals what he's been doing during his time away from Weatherfield – besides getting under his wife's feet!
So, why was your wife, Caroline, so keen to get you back to Corrie? "I was getting under her feet! It was like I was retired or something and I didn't know what to do with my time. I had a lovely time with Caroline and the family, but it got to a point when she said it was time for me to be Peter in Corrie again. I thought so, too."
Apart from getting under your wife's feet, what else have you been up to? "I went back to the theatre. I did the Samuel Beckett play Waiting for Godot with David Nielson, who, of course, plays Roy Cropper in the Street. It was very different to Corrie! I also did The Rise and Fall of Little Voice with Vicky Entwistle, who played Janice Battersby, plus a couple of pantos."
Did you do anything else other than acting? "Yeah, we went on holiday. I went over to New York for a week, which I loved. We had a couple of little holidays, too. I spent time with family and then it got to a point, like I say, where Caroline's like, 'You need to go away now, go and earn some money'!"
Why did you decide to come back to Corrie? "I always intended to play Peter again. I felt I'd been away for long enough. Then when I met Kate Oates, the producer, I thought it seemed like the right time to do it because I liked everything Kate was saying. I felt excited about it.
"Now we've got more Barlow boys – Sam Robertson, who plays Adam, and Rob Mallard who plays Daniel. Plus Kate Ford and Bill Roache as Tracy and Ken. It's great when you've got so many characters in the family."
Do you see yourself staying for a long time? "I don't think about how long I'll play Peter for. There's no point, is there? They might say it's not working out for whatever reason. For now, it's good."
Do you tend to live for the moment, then? "I'm trying. I really am trying. And I don't mean that has to be a really intense moment or anything. It's just being more present with where I am. Not keep chasing my tail. That way makes the job more manageable."
Is it very different on set? "There's a lot of people I don't know, so I'm still saying 'Hello' to folk. But there's a lot of people coming back as well. Georgia Taylor, for example, who plays Toyah Battersby."
But, sadly, there's no Anne Kirkbride... "No. Annie's not there, which has been sad. The last time Peter was in Weatherfield, it was for Deirdre's funeral. Then I left for a year and a bit and, you know, I've let Annie go. But now I'm back there and it's a bit weird. I'm thinking about her a lot."
Coronation Street, ITV
Get the latest updates, reviews and unmissable series to watch and more!
Thank you for signing up to Whattowatch. You will receive a verification email shortly.
There was a problem. Please refresh the page and try again.