'You're not going to like this…' Tracy tells Liz about cheating Tony in Corrie tonight!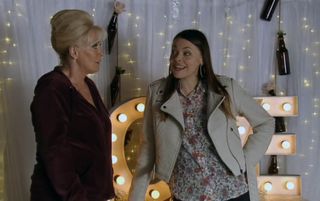 It's heartbreaking, really. There's Liz, happily getting ready for Steve (Simon Gregson) and Michelle's (Kym Marsh) wedding, thinking everything's coming up roses in her life.
Then in walks Tracy (Kate Ford), the thorn in Liz's side - and she's feeling particularly prickly.
"Wow! It's all happening, isn't it? Your precious son's getting married… You're jetting off to an exciting new life, all sunshine and sangria," Tracy says to Liz.
"Did you want something? Only I have got a wedding to prepare for," Liz tells her.
"Well, it's just a pity that it's a sham," says Tracy.
"What is?" asks Liz, smiling.
"You're not going to like this, Liz, but I think it's about time you found out the truth," Tracy tells her.
Liz isn't smiling any more. "The truth about what?" she asks.
"About Tony [Terence Maynard]. He's been telling you a load of porkies," Tracy teases.
"I don't care what happens in that grotty little shop of yours," Liz tells Tracy.
"Yeah, well maybe you should do. Let's just say that the stock room has seen more than it's fair share of action. He's been cheating on you," Tracy says, with her evil smile. "He's been cheating on you, Liz. With me."
And you won't want to miss what happens next!
See it in Coronation Street on ITV, tonight (May 25), 9.00pm.
Get the latest updates, reviews and unmissable series to watch and more!
Thank you for signing up to Whattowatch. You will receive a verification email shortly.
There was a problem. Please refresh the page and try again.