Corrie's wicked Will sets a drugs trap to destroy love rival Robert Preston, reveals Leon Ockendon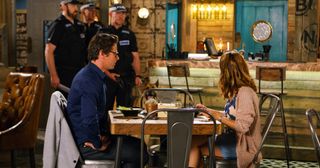 (Image credit: Mark Bruce)
Architect Will Chatterton is determined to win back his ex Michelle Connor whatever it takes, reveals Coronation Street actor Leon Ockendon
Will Chatterton has been a shoulder to cry on for old-flame Michelle Connor - and a breath of fresh air for her partner Robert Preston as he's offered to help redesign the Bistro. But it's all a front. Behind the scenes, Will's scheming to bring down Robert and so become the man in Michelle's life. 'I think Will's absolutely convinced that Michelle would be better off with him, so he just starts working through the obstacles in order to achieve that and get rid of Robert,' actor Leon Ockenden told Soaplife.
Why is Will so obsessed with Michelle? "Although he has all the outward trappings of a successful life, he's middle-aged, single and very lonely. I think he has looked back through his life and he's kind of fixated on the first person he fell in love with. He is stalking her and is actually the most dangerous type of stalker because he was once intimate with her. He feels he has ownership over her because they've had a previous relationship. His 'relationship' with Maria is just an excuse to get close to Michelle."
He locked Michelle in a car boot and terrorised her – how could he do that to a woman he claims to love? "He's banking on the fact that she'll never know it was him. Will's been able to be the shoulder to cry on – the strong man who can comfort Michelle, take her away from the chaos with Robert and give her a nice life."
And now Will is plotting to cause even more chaos for Robert. . . "Yes. Robert has to go to court for his hearing and implores Michelle not to accompany him. Will comforts her but then he invites Maria to meet him for lunch at the Bistro. While nobody's looking, he plants drugs in the first aid box. He then tips off the police and excitedly watches as they arrive with sniffer dogs. He's positive Robert is going to get done."
Guess you're not going to tell us if he is? "No but I will say there are some big scenes coming up at Will's very flash house."
As a baddie Will is bound to get what's coming to him, isn't he? "Probably but look at Pat Phelan – he's a very bad guy and yet he's still on the Street!"
Who do you prefer playing - smooth Will or unhinged Will? "The unhinged Will. It's always more fun to do that, I mean you don't want to be James Bond do you? You want to be a villain."
Get the latest updates, reviews and unmissable series to watch and more!
Thank you for signing up to Whattowatch. You will receive a verification email shortly.
There was a problem. Please refresh the page and try again.