Bistro shock: Nick agrees to share business with Robert, reveals Corrie's Ben Price. Really?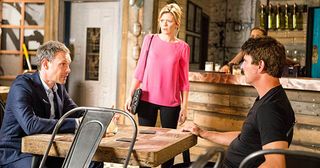 (Image credit: Joseph Scanlon)
Nick's bistro war with Robert in Corrie comes to an end as they share the business. But for how long?
Corrie's Nick is still bitter about Robert having his bistro and has a wicked plan to put him out of business, Ben Price reveals to Soaplife.
What Nick does is shop Robert to the police for drink driving, right? "Yes. Nick's still in real pain over what happened with Carla [Alison King] and so he wants to ruin Robert [Tristan Gemmill], get him out of the way, and reclaim his bistro. Nick feels Robert's got hold of the bistro under false pretences. Nick wants it back and when Robert doesn't play fair, Nick thinks, 'Well fine. I'll just ruin you instead!' It's a collective collapse - a little nail in the coffin. Nick hopes this will be the beginning of Robert's demise."
How does Leanne react to what he's done? "Leanne [Jane Danson] is sick of Nick and Robert trying to score points off each other. She's not that attached to Robert but is worried about Nick – the revenge thing isn't good for him. Ultimately, she wants the best for Nick and she can see this is affecting him. Nick always listens to Leanne – she's smart, good at what she does, and Nick knows that. They care for each other a great deal, so when she tells him to stop all of this with Robert, he knows she's trying to save him."
What happens next? "Robert and Nick eventually agree to split the Bistro 50/50 on the basis that Leanne agrees to come back to work, too. I think Nick just accepts it and thinks he will squeeze Robert out altogether eventually."
Coronation Street, ITV
Get the latest updates, reviews and unmissable series to watch and more!
Thank you for signing up to Whattowatch. You will receive a verification email shortly.
There was a problem. Please refresh the page and try again.