Anita Dobson reveals speaking and singing challenge of Suffolk murders film, London Road (VIDEO)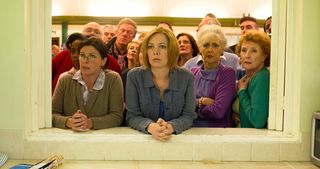 Singing with a 'Suffolk twang' was one of the challenges facing Anita Dobson in the groundbreaking new British film London Road, co-starring Olivia Colman and Tom Hardy, which shows how an Ipswich community healed itself after a series of horrifying murders in 2006.
Fortunately, the Suffolk accent 'is not dissimilar to an East End accent,' Anita told What's On TV, speaking of her role as one of the residents of the Ipswich street that was put in the media spotlight following the killing of five local prostitutes. "]
Anita and her fellow cast members break into song in London Road, using the real words and speech patterns of the residents - an innovative technique devised by the award-winning team of writer Alecky Blythe, composer Adam Cork and director Rufus Norris for the acclaimed National Theatre production on which the film is based.
"It's strangely freeing and exhilarating," was Anita's verdict on this unusual working method.
While making the film, Anita shared a Winnebago with Mad Max star Tom Hardy – but never at the same time.
She did share scenes, however, with Olivia Colman and brims over with praise for her co-star: "Olivia was remarkable. The minute she walked into the rehearsal room and started I thought, my God, she's going to be amazing! It was a real joy to work with her. I'm a big fan."
London Road premieres on 9th June via NT Live and is on general release on 12th June. Visit londonroadfilm.co.uk for more information.
Get the latest updates, reviews and unmissable series to watch and more!
Thank you for signing up to Whattowatch. You will receive a verification email shortly.
There was a problem. Please refresh the page and try again.