EastEnders: grieving Shabnam needs a friend. But is Stacey her best choice?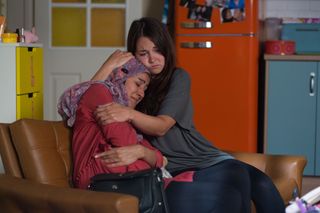 Shabnam and Kush will be going through the most unimaginable pain as they work through their grief over the death of their unborn baby in EastEnders.
"Kush and Shabnam's relationship will be tested beyond all limits," reveals Rakhee Thakrar (opens in new tab), who plays Shabnam. "Grief can be very isolating and everyone handles it in their own unique way.
"Shabnam's trademark coping mechanism is to shut everyone out. Which will inevitably cause problems with Kush (Davood Ghadami (opens in new tab)). I hope they can recover."
They're clearly going to need the support of their family and friends… And Stacey's a friend, right?
Well… Shabnam doesn't know it but Stacey (Lacey Turner (opens in new tab)) shouldn't be her first port of call in the turbulent days ahead.
And not just because Stacey is still secretly lusting after Kush.
Or because Stacey is pregnant and could prove to be a raw reminder of what Shabnam has just lost.
Stacey has decided to stop taking her bi-polar medication because it could hurt her unborn baby.
And when Stacey's off her meds she can be, well, unpredictable at best - and homicidal at worst (as Archie Mitchell found out).
No matter how many times Stacey tells Martin Fowler (James Bye (opens in new tab)) she loves him, it is clear to just about everyone - except Martin - that she doesn't.
Martin is who Stacey has settled for because she couldn't have Kush.
But what might Kush do now, in his grief-stricken state? And what might Stacey encourage him to do?
Would Stacey really risk adding to her friend Shabnam's heartbreak right now?
Without her medication, Stacey just might…
EastEnders (opens in new tab) continues on BBC1, Monday, August 31, 8.00pm.
Thank you for signing up to Whattowatch. You will receive a verification email shortly.
There was a problem. Please refresh the page and try again.