EastEnders' Joivan Wade: 'Jordan and Lucas together are dangerous'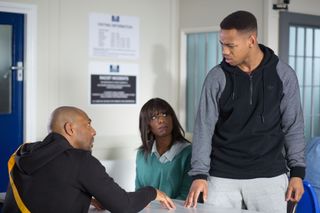 (Image credit: BBC/Jack Barnes)
Jordan may not be the killer his dad Lucas is, but when they bond again, the two of them together are going to be a lethal combination… for Denise!
EastEnders (opens in new tab)' Joivan Wade reveals all to Soaplife...
Does Jordan care about Denise (Diane Parish) or is he just using her?
"She's the closest thing he has to a mother and the first person he would go to for help. He hasn't got anybody else."
How did he get caught up in trouble?
"He's been involved in a gang problem, which is mainly because of his son JJ's mother. She's caught up in gangland. Now he wants to get away from it all."
Is he a good dad?
"He wants to be the best dad he can be to JJ [Zayden Kareem], but circumstances don't permit him to do all that he wants to because he doesn't have the money or the resources."
His own dad Lucas (Don Gilet) is in prison for murder. How does Jordan react when Lucas says he wants to get to know him again?
"Jordan hasn't seen his dad for years and he decides that he wants a relationship with him. He's determined to find a way to get closer to him."
Lucas also wants something else from Jordan… What?
"His dad wants help to get a job at the prison, which will mean he gets more visiting hours and would also mean that JJ could visit his granddad a lot more."
But they need Denise to help, too. Will she agree?
"Jordan asks her to speak to the governor for Lucas. At first she refuses but then Jordan convinces her otherwise."
Is Denise going to end up regretting getting involved with Jordan and Lucas?
"Yeah, it's going to cause Denise a lot of trouble and headache. You've seen what Lucas is like and, if you put that together with how Jordan is, then it's never going to be good for anyone. Jordan connecting with Lucas again could definitely bring something dangerous."
Watch this continuing story in EastEnders on BBC1 from Monday 29 February
Get the latest updates, reviews and unmissable series to watch and more!
Thank you for signing up to Whattowatch. You will receive a verification email shortly.
There was a problem. Please refresh the page and try again.