EastEnders' Laurie Brett: Bobby's face just before he pushes Jane down the stairs 'isn't quite right'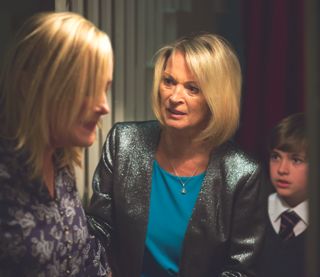 (Image credit: BBC/Jack Barnes)
Bobby lashes out and Jane is scared… Then words from Kathy fuel her worst fears, EastEnders' Laurie Brett (opens in new tab) tells Soaplife…
Bobby pushes Jane down the stairs. Does she think he meant to?
"The way she sees it, Bobby [Eliot Carrington (opens in new tab)] snapped and it was unfortunate that they were at the top of the stairs."
Does Jane think there might be something wrong with Bobby?
"She's worried. His face just before he did it wasn't quite right. I think she's been in denial and she's now getting to a point where she can't ignore it any more."
Is she scared of him?
"No, but I think she's scared for him. She's frightened about what the consequences of her actions were when she covered for him."
We see Kathy (Gillian Taylforth (opens in new tab)) and Jane get closer, can you tell us a little about their relationship?
"It was frosty at the beginning but it's not every day someone you think is dead walks through the door. There is a bit of rivalry there between them, but they're starting to have each other's backs. Jane starts to feel as if she has an ally."
How is Jane getting on with Ian?
"I think carrying this secret between them has only made them stronger."
How do the family feel on Lucy's birthday?
"It's never going to be an easy time, but Ian [Adam Woodyatt (opens in new tab)] decides not to make a big deal of it for Bobby's sake. They decide to put the tree up each year with the angel on top to mark her birthday."
What does Jane think when Kathy says she knows Bobby pushed her?
"It's the last thing that Jane wants. She fears everyone will jump to the wrong conclusion. Plus, she doesn't want Ian to find out. Kathy tries to tell Jane there's something wrong with Bobby and she doesn't want to hear that."
How do Jane and Kathy deal with Bobby?
"They decide to try a bit of tough love. Bobby ends up being really sweet and Jane wonders if she's done the right thing."
Has she?
"I'm pretty sure Bobby's quite damaged and there may be things coming up in the future that test him. But who knows how he'll react? Watch this space!"
Can the Beales expect a quiet Christmas?
"All I'll say is there's a line that goes: 'This is going to be the best Christmas ever.' I think that says it all…"
EastEnders (opens in new tab), BBC1.
Thank you for signing up to Whattowatch. You will receive a verification email shortly.
There was a problem. Please refresh the page and try again.