EastEnders' Letitia Dean: 'Can Sharon be sure Gavin won't hurt her?'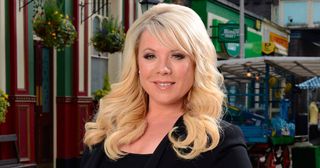 (Image credit: BBC/Kieron McCarron)
Gavin is back as the Mitchells prepare to bury Peggy in EastEnders – and when he snatches Kathy, others are dragged into his evil web, warns Letitia Dean
Sharon's determined to support the Mitchells at Peggy's funeral in EastEnders. But lives are at risk when Gavin kidnaps Kathy! Letitia Dean reveals all to Soaplife…
So, Sharon's the new Mitchell matriarch, Letitia? "There was a really lovely moment between Peggy [Barbara Windsor] and Sharon, where they acknowledged they hadn't always been each other's biggest fans. But they recognised how important they were to each other and Peggy almost handed over the matriarchal baton to Sharon as head of the family."
Can you tell us anything about the drama at the funeral? "Sharon's worried about Phil [Steve McFadden] as he's really struggling to write the eulogy. She knows he wants to do his mum proud and she's worried he's putting himself under too much pressure. It's an emotional day, but it's a beautiful send-off for Peggy."
Well, it's beautiful until Gavin's sister, Margaret, turns up… "Sharon knows anything to do with Gavin [Paul Nicholas] means trouble and she doesn't want to get involved. She just wants her Aunt Margaret [Jan Harvey] gone."
But she rushes to help Kathy (Gillian Taylforth), when Gavin snatches her, doesn't she? "She's really nervous! She knows how dangerous Gavin is. Now she knows he's her father, a small part of her believes he wouldn't hurt her. But can she really be sure of that?"
We know Sharon, Kathy and Buster (Karl Howman) find themselves in danger. Can you tell us more? "All I'll say is lives are at risk. Gavin's a man on a mission and he's desperate, which is a dangerous mix.
EastEnders, BBC1
Thank you for signing up to Whattowatch. You will receive a verification email shortly.
There was a problem. Please refresh the page and try again.