EastEnders new pictures: drunk Phil's in the gutter…and taking drugs? He needs help, Grant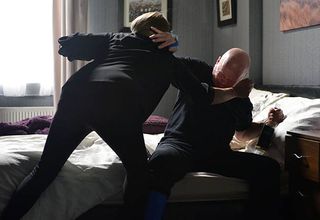 (Image credit: BBC/Kieron McCarron)
Pretty much the whole Mitchell family is a mess on EastEnders right now… But it's Phil (Steve McFadden (opens in new tab)) who's in the gutter - and he seems determined to stay there.
It was Sharon's father, Gavin (Paul Nicholas (opens in new tab)), who got alcoholic Phil drinking again, when he held him hostage and beat him to a pulp.
Now Sharon (Letitia Dean (opens in new tab)) doesn't know what to do with him… In upcoming episodes she will try locking him in their bedroom. But that doesn't stop Phil. He finds a bottle of whisky meant for a gift and helps himself.
So when Sharon opens the door, she finds him drunk, mean and violent - and he hits her.
Sharon learns the painful way not to come between Phil and his whisky friend
That's a low blow, Phil - but he's going to sink a lot lower, says Enders' boss Dominic Treadwell-Collins (opens in new tab).
"Phil is the one to watch," says Dominic. "What Gavin did to him will take Phil in a whole new direction that will run into 2016."
But that doesn't mean Phil will get back on his feet. Far from it. The direction he's going in is down… He's going to be flat-out drunk a lot of the time, as our pictures from future episodes reveal.
Clutching a bottle of whisky, Phil can be seen looking rougher than 40 miles of rough road, eyes glazed, and barely able to stand up. But it does appear that he's talking to someone - or to himself…
Is Phil just drunk? Or is he back on drugs again?
Phil isn't only an alcoholic… he had a run-in with crack cocaine in 2010, when he had an affair with Cora's daughter Rainie Cross (Tanya Franks (opens in new tab)).
Now, Rainie's mum Cora (Ann Mitchell (opens in new tab)) is wandering around Albert Square again. What if Rainie also reappears - and hooks up with Phil, getting him hooked again?
"We talked about doing for Phil Mitchell what we did recently for Ian Beale [Adam Woodyatt (opens in new tab)]," Dominic days.
And what Ian did recently was try to kill himself. He was all set to jump off a bridge when Jane saved him
Who can save Phil? We think that's where his brother Grant (Ross Kemp (opens in new tab)) will come in.
Is Grant going to return to save Phil's life?
Grant will swoop in from Portugal to help get his brother back on his feet - and maybe fight a few of his battles, so watch out Gavin - then disappear again.
"Never say never," said Dominic, when he was asked about a return for Grant.
EastEnders (opens in new tab) continues on BBC1, Monday, November 23, 8.00pm.
Get the latest updates, reviews and unmissable series to watch and more!
Thank you for signing up to Whattowatch. You will receive a verification email shortly.
There was a problem. Please refresh the page and try again.