EastEnders' new Taylor family: 'We're different to the Millers – we're triers!'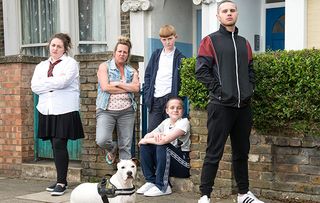 Actors Lorraine Stanley, who plays single mum, Karen Taylor, Danny Walters, who plays her eldest son, Keanu and Clair Norris, who plays daughter Bernadette give us the lowdown on what fans can expect from Walford's latest arrivals…
Grab yourselves a pair of earplugs! Next week, the Taylor family descend on Albert Square and they make quite an entrance. Described by EastEnders' executive producer Sean O' Connor as 'noisy, brash and not to be messed with', the clan consists of mum Karen, eldest son Keanu, daughter Bernadette, younger sons Riley and Chatham and family pets Bronson the dog and Rooney the bearded dragon.
Actors Lorraine Stanley (Karen), Danny Walters (Keanu) and Clair Norris (Bermadette) talk to us about joining the iconic soap and give a flavour of what's to come...
What brings the Taylors to Walford and where have they been beforehand? Lorraine: "They're from the nearby estate. Everyone has been evicted." Danny: "It's the same block where Ted and Joyce Murray lived. There's a bit of history there..."
What is their arrival like? Do they come in with a bang? Lorraine: "Yes, it's full on! It's loud, it's messy and chaotic!" Clair: "You hear them before you see them!" Danny: "There's reggae music playing in their van. They're the sort of neighbours you wouldn't want moving into a place like Albert Square. Nice little flowers are being planted and then we move in and destroy the ambience."
Do they not care about upsetting people? Lorraine: "I wouldn't say that as Karen, because I think she's a friendly, loving person. But she's got a mouth on her and if people don't like her, they don't like her. But she's a people person and she really tries to get to know her neighbours. She stands outside her door, having a fag and comments on what's going on and introduces herself to people."
What can you tell us about all of your characters? Lorraine: "Karen's a lioness. She smokes 20 cigarettes a day, and she's a strong woman who loves her children. She's got a heart of gold, she would do anything for anyone and she would do time for her kids. People might initially think she's lazy and doesn't do anything, but actually when you dig deep, she's really looking after her kids and does everything for them. She's a strong woman, but she's not to be messed with." Clair: "Bernadette is 15, and just wants to sit around and watch reality TV. She thinks that's a good way of getting money, so why bother going to school? She just wants to be famous, basically." Danny: "Keanu is the man of the house, as there is no father figure. He's an apprentice car mechanic and the only one who brings in any money. He's got morals and he's trying to change people's perceptions of the family, which is sometimes impossible to do. It's tough when you're from a lower class. Some people can't break out of that. The Taylors are trying to better themselves, but whenever they think something is going right, something will happen and it gets taken away from them." Lorraine: "I think that the divide between rich and poor is much wider than it's ever been – or that's what it feels like – and this is an example of a family where you can see why they're not getting on in life, because they keep coming up against hurdles. I think that's what makes them different to the Millers. They're triers. They're doing their best."
Lorraine, can you tell us about Karen's shocking wardrobe? "I chose clothes that were too tight for her, because she thinks she's a size 12 when she's actually a 16 or 18. I wear kaftans to cover it all up, but she's one of those women where her rolls of fat are hanging out and she just doesn't care. And I've got no make-up on, whatsoever. I wanted it to be as real as it could be, but then I looked at myself in the mirror and went: 'What have I done? My fella's gonna leave me!'"
There are two younger boys, Riley and Chatham, and also another daughter who doesn't live with the family, called Chantelle. What's the story with her? Danny: "She's got a boyfriend and two kids and she has moved out. She probably doesn't have any time for us any more; she's got her own life."
And there are also a couple of animals – Bronson the dog and Rooney the bearded dragon. What are they like to work with? Lorraine: "I think the dog is a cross between a Staffordshire Bull Terrier and a Bull Mastiff. He's just gorgeous. The dragon makes me cringe, though. I can't even look at it." Danny: "I think the dragon is on more money than us, so they only bring him out occasionally. We don't see him that much."
Can you tell us about your audition process? Danny: "We had a workshop, originally. I'm not sure if they were toying with the idea of a new family or not, but they were work-shopping a few characters, and that's when I met Clair. I found out that day that they had cast me as Keanu, but I didn't know much about him."
Lorraine, did you worry that you wouldn't be cast as Karen given that you'd played another EastEnders character – Thelma Bragg – only last year? "Yes, part of me did, but then I thought that if they were asking me to audition, then they had to be serious about it. I was chuffed to bits when I got the part. Part of me was like: 'It's too soon.' But this is the right character for me."
Danny, you previously played Tiger in Benidorm. Did you leave that show for EastEnders, or had you already left when you were cast? "I left Benidorm as a career choice. It was a very hard decision as it was a beautiful job with some brilliant people. I was sitting out in the sun for months, drinking pina coladas and getting fat! But I wanted to move on and challenge myself, and I got EastEnders within six months."
Clair, this is you first professional job - how have you found it so far? "It's been crazy. I did TV and film within my drama course at college, but this is off the scale. And the lingo that the crew use; I'm like 'What? I don't understand, what do you mean I have to stand on a mark?' But everyone has been so supportive that I feel comfortable now."
What was your first day on set like? Did you rehearse a lot? Lorraine: "We didn't rehearse at all; the director specifically said not to rehearse because he wanted it a bit messy. I think that works for us. I know that if I rehearse my lines too much it becomes a bit too 'done.'"
Are there any actors you were particularly looking forward to meeting? Danny: "June Brown, who plays Dot. I sat next to her in the make-up room and she was eating a cake. She was just eating a cake, but it was fascinating!" Lorraine: "She was the one I got star-struck over. I went a bit shaky." Clair: "For me, it was Jake Wood, who plays Max: I watched him in Strictly. I do ballroom and Latin dancing and I'm a Strictly fan, and I think he's amazing."
All EastEnders newcomers get given mentors. Who are yours? Lorraine: "Mine is Emma Barton (Honey). We actually went to college together in Portsmouth; we were on the same BTec course. So it was nice to catch up with her." Clair: "Mine is Natalie Cassidy (Sonia). She's really nice, and we've had lots of chats. She's like a second mum." Danny: "Mine is Adam Woodyatt (Ian). He's been in the show for 32 years so the best one! He just said 'Take my number. Any problems, give me a call.' He's been really good, but everyone has."
Get the What to Watch Newsletter
The latest updates, reviews and unmissable series to watch and more!
Alison Slade has over 20 years of experience as a TV journalist and has spent the vast majority of that time as Soap Editor of TV Times magazine.
She is passionate about the ability of soaps to change the world by presenting important, issue-based stories about real people in a relatable way.
There are few soap actors that she hasn't interviewed over the years, and her expertise in the genre means she has been called upon as a judge numerous times for The British Soap Awards and the BAFTA TV Awards.
When she is not writing about soaps, watching soaps, or interviewing people who are in soaps, she loves going to the theatre, taking a long walk or pottering about at home, obsessing over Farrow and Ball paint.