EastEnders' Rakhee Thakrar: 'Shabnam tells Kush it's over and she's going to Pakistan'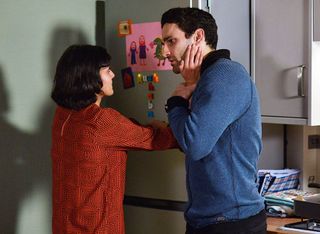 (Image credit: BBC/Kieron McCarron)
Shabnam reaches breaking point in EastEnders and calls time on her marriage, then makes plans to leave for Pakistan, Rakhee Thakrar tells Soaplife.
As brave as Shabnam Kazemi is, and as much as she loves Kush, being with him in the Square, just a stone's throw away from his baby son, Arthur, is too much to bear, and she tells Kush she's leaving for Pakistan.
"She feels she's been pushed to the edge and she can either jump or run," said Rakhee. "She wants to run – as far from this mess as possible."
So Shabnam's not coping with Arthur being Kush's son?
"It's been very hard for her. She's just learned she can no longer have children naturally, her baby died last year and, although she's someone who forced herself to be strong in the face of hardship, it's taking every last piece of faith to keep going."
But she's pushing Kush (Davood Ghadami) to be a father to Arthur…
"Because she knows from her own experience that you can only avoid your child's existence for so long. She aches for her daughter, Jade. She finds Jade's blunt nature very amusing and she's proud of the way she has a strong sense of self. She desperately hopes Jade will one day forgive her for giving her up. She loves Kush and she couldn't stand back and see Arthur not knowing the truth about who he is."
Does she feel bad about lying to Martin?
"Yes. She believes the right thing to do is be honest. She knows how damaging it can be to keep secrets and thinks Kush should come out and say he's Arthur's dad."
Kush suggests they both move away… How does that sit with her?
"They've talked about this before and she thought it was one of those empty gestures. Kush comes to her with everything planned and she just wants to jump in the air and do a fist bump. Then her conscience kicks in and she wonders if Kush could really be away from his son."
What does she do next?
"She tells Kush it's over and she's going to Pakistan. It would be nice if she had the strength to stay in Walford and work this out with Kush, but it would be the beginning of a long and very difficult road."
EastEnders, BBC1
Get the latest updates, reviews and unmissable series to watch and more!
Thank you for signing up to Whattowatch. You will receive a verification email shortly.
There was a problem. Please refresh the page and try again.