EastEnders' Richard Blackwood: Fatboy's death will 'haunt' Vincent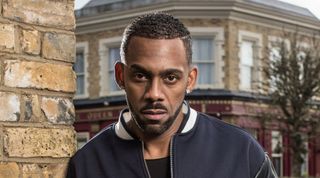 Fatboy's grisly death on EastEnders on Boxing Day will 'definitely' haunt Vincent Hubbard.
It was Vincent (Richard Blackwood) who was meant to be locked in the boot and sent to the car crusher, but Arthur 'Fatboy' Chubb (Ricky Norwood) was horrifically killed in a case of mistaken identity.
Richard Blackwood in EastEnders (BBC/Phil Fisk)
Ronnie Mitchell (Samantha Womack) was trying to kill her enemy Vincent, but her hired thugs got the wrong man.
Blackwood told Yahoo: "EastEnders don't do anything half-a***ed. They've thought it through. It definitely will come back and haunt [Vincent], I can say that much… there's no way that it wouldn't.
Ronnie tried to get Vincent taken care of (Jack Barnes/BBC)
"You just have to think of the lies he's had to tell since then, he's already feeling guilty as it is. Knowing EastEnders as I do, they won't leave it like that."
Unfortunately for Blackwood, he has been facing flak from the public for Fatboy's death.
He said: "I've been told off… even the other day somebody came up to me and said, 'It's out of order what you did to Fatboy'.
Vincent and Fatboy have a disagreement (Gary Moyes/BBC)
"I said it wasn't me and they were like, 'You were involved. It's because of what you did'. They were breaking it down for me. I was like, 'I'm really sorry.'"
Blackwood also admitted it's tough keeping storylines a secret from his inquisitive family.
Richard Blackwood (Nicky Johnston/BBC)
He said: "Your family is the first to come up to you and be like, 'We're family, there's no problem here, tell us'. And it's like, 'Why are you so eager to know?' and they say, 'I'm your mum, I should know'.
"That's not part of mum duty, you just need to know I'm doing well in life. But my mum likes to push the boundaries, 'I'm your mum, I should know first'. That stops when I'm 18, I'm 43 now, you don't need to know anything. It's surreal."
Get the latest updates, reviews and unmissable series to watch and more!
Thank you for signing up to Whattowatch. You will receive a verification email shortly.
There was a problem. Please refresh the page and try again.