Enders sneak preview: Emma knows who killed Lucy and is running scared! Who from? (VIDEO)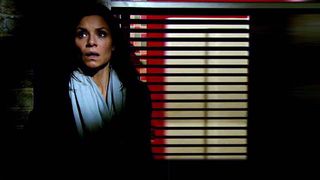 The fireworks are still going off in Albert Square on New Year's Day as Emma Summerhayes (Anna Acton (opens in new tab)) talks to Lucy's killer.
"Some secrets are horrible…" says Stan (Timothy West (opens in new tab)), in this chilling preview of EastEnders' New Year's Day episode.
But the secret gripping certain residents of Albert Square has nothing to do with the Carters this time… It's all about Lucy's murder.
New Year's Eve showed us that former police officer Emma is still playing detective and has worked out who killed Lucy.
Tonight's episode shows that Max's (Jake Wood (opens in new tab)) New Year starts with a furious fight - with Emma, who's fighting him off and shouting at him to leave her alone.
Does she think HE killed Lucy?
Emma sends a text to someone that reads: "I can't keep the secret".
Is that going to put Emma in danger?
Ronnie (Samantha Womack (opens in new tab)) certainly is in trouble. Nasty Nick (John Altman (opens in new tab)) didn't take her money and run like she told him to. He seems determined to make an appearance at her wedding.
But there's a car running out of control in the Square… Will it make Nick really dead? And who's behind the wheel?
It's all in the New Year's Day hour-long EastEnders (opens in new tab), BBC1, 8.30pm.
http://youtube.com/v/woa5zGm2hUE
Get the latest updates, reviews and unmissable series to watch and more!
Thank you for signing up to Whattowatch. You will receive a verification email shortly.
There was a problem. Please refresh the page and try again.