It's my birthday and I'll cry if I want to! Carmel has an unhappy 50th on EastEnders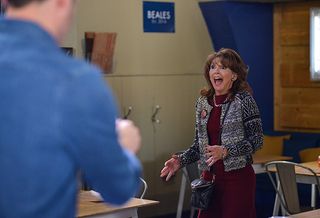 (Image credit: BBC/Jack Barnes)
Denise throws her friend, Carmel, a surprise 50th birthday party on EastEnders, but Masood wades in and makes it a day to forget
Masood Ahmed (Nitin Ganatra) has an eye for the ladies, and he's currently got it trained on Denise Fox (Diane Parish).
The trouble is, Carmel Kazemi (Bonnie Langford) has been carrying a torch for Masood ever since they fell into bed together earlier this year, and Denise is her close friend.
It's Carmel's 50th birthday this week and there are surprises in store for her… but they're not all good ones.
It doesn't look like she'll get the one thing she really wants… Masood. And it seems she might lose a good mate, too, in Denise.
Carmel's birthday gets off to a disappointing start when her family don't give her the celebration she deserves. But that all changes when Denise organises a surprise party for her at Beales.
Alone with Denise, who's happy she's made Carmel's day, Masood misreads the signals and leans in for a kiss when she talks about relationships…
Denise is horrified, and even more so when she realises that a mortified Carmel has just seen what happened.
While an embarrassed Masood barely knows what to say, Denise tries to explain herself to Carmel. Will she forgive and forget? Or will this be a birthday Carmel wants to forget?
Watch EastEnders on BBC1 from Tuesday, 21 June
Thank you for signing up to Whattowatch. You will receive a verification email shortly.
There was a problem. Please refresh the page and try again.