Jonny Labey's EastEnders exit – will Paul Coker kill blackmailer Aunt Babe?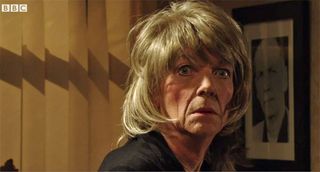 "I won't let you suffer because of who you are," Paul Coker told his grandad, Les (Roger Sloman) (opens in new tab), in Friday's EastEnders.
So, what's Paul going to do? Well, the best way to end Les's suffering is to silence his blackmailer, Babe Smith (Annette Badland) (opens in new tab).
It was Paul who caught Les dressed again as Christine, the woman inside himself he turns to when his life becomes hard to live as Les.
Les promised Pam that Christine was gone…but then she reappeared
The trouble is, it's because of Christine that Les is so troubled… The thoroughly revolting Babe knows his secret and is making him pay weekly to keep her mean mouth shut.
"I want to understand," Paul told his grandad, when he saw him as Christine, after Les promised wife Pam (Lin Blakley) (opens in new tab) that Christine was gone forever.
Les is being blackmailed by Babe: he pays or she tells everyone about Christine
"If there was another way, I wouldn't have done it again," Les told Paul. "It's the only way I know how to cope. These last few weeks have been a strain…blackmail…it's all becoming too much."
Christine nearly wrecked his marriage. When Pam found out about her she threw Les out and it was months before she let him come home – but insisted on separate beds.
Determined not to let Babe wreck their life together and believing in Les, Pam was ready to push their beds back together last week.
Pam believes Christine won't come between her and Les again
Then Les turned to Christine again…
Desperate to keep his promise to Pam, Les asked Paul to get rid of Christine's things.
"I'm done with her," Les insisted.
"No, I won't," Paul said. "Keep them. I'll turn a blind eye. You've always been there for me. Never judged. You love me for who I am. I won't let you suffer because of who you are."
We know Jonny Labey, who plays Paul, is leaving EastEnders. When that was announced in April, an EastEnders insider said he would "leave in a couple of months as part of an explosive storyline".
Well, his couple of months are nearly up, and what could be more explosive than sweet, good-hearted Paul turning killer?
Paul has told his desperate grandad that he won't let him suffer
He hates seeing his grandparents unhappy and tormented by twisted Babe. Could Paul go to see Babe in the kitchen where she cooks up all her trouble?
If he did, she would relish taunting him the way she has taunted Les and Pam and, in the heat of the moment, Paul might just lash out and do something totally out of character – and kill her.
He's got a funeral parlour literally on his doorstep and could easily hide her body in a coffin that is ready for burial.
But then what? His boyfriend Ben Mitchell (Harry Reid) (opens in new tab) only came out a few weeks ago…
We just saw Ben cuddled up with Paul in bed, talking about growing old together, like Les and Pam.
So happy together… But is Ben about to lose lover Paul?
That's not going to happen if Paul kills Babe – or even just tries to kill her.
Paul could end up making things worse for Les and Pam by attacking Babe, but failing to silence her.
What we're sure of is that Ben is going to lose Paul – and he'll be heartbroken and it will happen soon.
EastEnders (opens in new tab) continues on BBC1, Tuesday, June 14, 7.00pm (there is no EastEnders on Monday, June 13, because of Euro 2016 football).
Thank you for signing up to Whattowatch. You will receive a verification email shortly.
There was a problem. Please refresh the page and try again.