Kathy faces her rapist Willmott Brown: 'She's so frightened' says Gillian Taylforth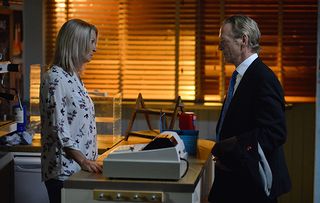 Almost thirty years after her rape ordeal, the Walford favourite will have a terrifying showdown with her attacker, who refuses to believe he did anything wrong...
Kathy Beale's worst nightmare is about to come true. The EastEnders favourite will soon be confronted by her rapist James Willmott Brown, who has recently returned to Walford and is secretly plotting to take over the square.
Actress Gillian Taylforth talks about the terrifying showdown, and shares her memories of filming Kathy's rape storyline in the 1980s...
Can you describe the moment when Kathy comes face to face with Willmott Brown again? "It's in the café. The lights are all off because Kathy is closing up, and it's really eerie. Willmott Brown feels he was harddone by because he got three years in prison for the rape. He thinks that he and Kathy were having an affair and that they were going to go off into the sunset together. He can't understand why Kathy told all these 'lies' and he wants to clear the air. He's like: 'I've served my time, but what a shame I had to go through all that.' It's brilliantly written and very clever."
Is Willmott Brown deceiving himself or does he genuinely believe that he did nothing wrong? "He genuinely believes that he and Kathy were having an affair. That's what he told his family – that they were an item and that Kathy was going to leave her husband Pete for him. He's so deluded."
Is he more unpredictable because he's so deluded? "Oh yes, and Kathy actually says to him, 'You're deluded; you're out of your head!' So you do wonder what he's going to do next. This man is on his own wavelength."
Kathy and Willmott Brown back in the 1980s
Is Kathy scared of him? "In the beginning, she's very frightened – this man has suddenly come back into her life. She does stand up to him and say: 'This is what happened.' But she can't stand the fact that he's around, and might be in the Square for a while. She is frightened because she thinks he could turn up anywhere she goes."
Kathy doesn't tell Ian straight away about Willmott Brown's visit – why not? "She doesn't want anyone to know, because it's something she wants to forget about. But he finds her one day. She hears a noise and she jumps and hides on the floor, and Ian says: 'Mum, you're shaking!' So she has to tell him, and then Ian tells Phil. Kathy has told Ian that she doesn't want Phil knowing, but but he says 'I had to.' And then in the end, Kathy thinks 'Well at least Phil's going to do something, because I just want something done about it.'"
Does Kathy have an idea of what Phil might do? "I think she's pretty damn sure what Phil might do, yeah! Which is what Phil normally does!"
Phil plans to help Kathy - how far will he go?
How did you feel when you this storyline was pitched to you? "I didn't know anything about it! I came into work one day and saw Will (William Boyde, who plays Willmott-Brown) sitting there. He said, 'Do you know what's happening?' And I said, 'no'. So it was a lovely shock. Will's great to work with. It was so nice to see him again after all these years."
Had you seen William Boyde since he was last in the show, in 1992? "No, not at all. He's been down in Dorset, working on boats, and running his company. He hasn't been doing much, TV-wise, but he does a lot of voice-overs. It was so lovely to see him again, and he's a lovely actor. And he just got straight back into it again. You wouldn't have thought that he'd been out of it for so long. I was amazed. And that lovely voice as well. I swoon!"
Were you daunted or excited about revisiting Kathy's rape storyline? "I was excited about it. At the time of the original storyline, I remember going through those scenes at home and being quite upset, and I got very depressed by it. But obviously Will and I did it, and we got through it. To relive it again – I did wonder what they were going to do. But it was wonderfully written and it's a great episode when Kathy and Willmott-Brown come face to face again. There are only about nine or ten scenes in the episode, and seven or eight of them are me and Will. There's one particular scene that was 15 pages long and it's me talking for about nine or 10 of them. But it was great to do, and Will was fantastic; a great support."
Willmott Brown at his trial
What are your memories of the rape storyline, and what was it like being in the eye of the media storm?
"Weirdly enough, I said to Will when he first came back, 'How are you feeling?' and he went 'I'm a bit nervous.' I think when we did the rape storyline, that was the first big rape storyline that had gone on, and when it went out, everyone was talking about it. I remember my cousin phoning me up and saying she'd had a big row with her husband because he was saying 'Why did Kathy go upstairs with Willmott Brown?' and she was going 'You're allowed to go upstairs and have a drink with someone if you want; it doesn't mean you want to be raped!' And poor Will had these people shouting at him, 'Leave Kathy alone!' He said, 'I don't want all that again!' But I said that it's not like how it was then. Things have changed, there's so many channels on, and there have been other rape storylines on TV. I was like 'It's quietened down a bit Will, it won't be like it was before.' But looking back at those times, I couldn't believe the enormity of it all. It was amazing and quite scary when that went out, the attitude of everybody and the storm it created."
Are you proud that you were part of raising the discussion about rape back then? "Oh yes, definitely. It's always nice to know that you're involved in something like that, and that was a big storyline for me at the time. I remember getting letters from people, and I'm not an agony aunt and I don't feel right to answer people's letters, but I did get quite a few from people saying 'This has happened to me, I don't know whether to tell my boyfriend or not, what should I do?' So I went to the researchers here, and we took hold of it that way. But it was a storyline that got it out there, and was proud to be a part of that."
Alison Slade
Get the What to Watch Newsletter
The latest updates, reviews and unmissable series to watch and more!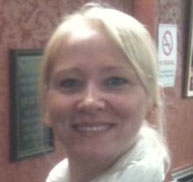 Alison Slade has over 20 years of experience as a TV journalist and has spent the vast majority of that time as Soap Editor of TV Times magazine.
She is passionate about the ability of soaps to change the world by presenting important, issue-based stories about real people in a relatable way.
There are few soap actors that she hasn't interviewed over the years, and her expertise in the genre means she has been called upon as a judge numerous times for The British Soap Awards and the BAFTA TV Awards.
When she is not writing about soaps, watching soaps, or interviewing people who are in soaps, she loves going to the theatre, taking a long walk or pottering about at home, obsessing over Farrow and Ball paint.