Tameka Empson: Kim Hubbard is shocked when police say they've found Vincent's body!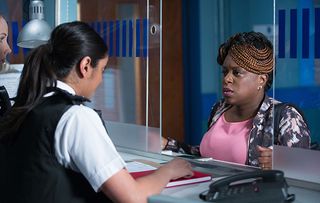 (Image credit: BBC / Jack Barnes)
EastEnders star Tameka Empson reveals how Kim Hubbard reacts when the police tell her they have found a body matching her husband's description…
Kim Hubbard is usually one of the few rays of light in the grim world of Walford. But husband Vincent's mysterious disappearance has cast a shadow over her and baby Pearl's future…
What's the story?
"Kim is stressed about the whole thing and she can't make any sense of it," says actress Tameka Empson. "The last time she and Vincent spoke, they were on the same page. He was going to go and tell these friends of his he wasn't going to do what they wanted, and now he's gone. But she's determined because she knows something's not right – she just can't put her finger on it…" Is she about to start learning the truth?
What's happening in EastEnders? See the latest soap storylines
EastEnders star Tameka Empson tells Soaplife about Kim's shock when police say they have found a body…
Soaplife: How convinced is Kim that she can track Vincent down?
Tameka Emspon: "I don't think she thinks he's dead. He's just disappeared and, for her, she wants to find him to really tear him to pieces. And to find out why he's wandered off without a word, a text or anything. As time goes on she gets more worried, but I don't think she thinks the worst of it as yet."
S: What are her suspicions about Phil Mitchell?
TE: "So she knows he knows something, but she doesn't know what he knows. For her, he's a suspect. He knows more than he's telling her. So you'll see a lot more of her trying to get things out of Phil. But she's not afraid of him – she's just afraid of what he might say."
S: What's keeping her going?
TE: "She just wants to know what's going on. She's not giving up on Vincent. She still loves him because she still believes in love and she still believes in family. But she wants to keep up appearances and keep things going. It's not over yet. It's not over until she's heard the reason why he's gone off."
S: How does she feel about being pregnant?
TE: "That's another reason she wants to find him because this is something they both wanted. It's something they were trying for, so for her to discover she's pregnant, it's another reason she wants to find him and tell him everything's okay."
S: What's her reaction when the police tell her they've found a body that matches Vincent's description?
TE: "It's a massive blow because that's the last thing on her mind. But if the police say they've found somebody who looks identical to her husband, she's going to have to go and see if this is him or not. It doesn't look good…"
EastEnders continues on BBC1.
Get the latest updates, reviews and unmissable series to watch and more!
Thank you for signing up to Whattowatch. You will receive a verification email shortly.
There was a problem. Please refresh the page and try again.