Sam Womack: 'Mount Pleasant's Tanya is insane!'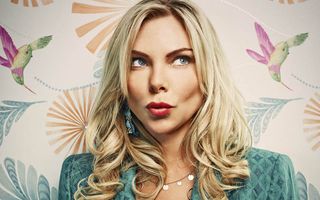 Samantha Womack and Nigel Harman are set to put the cat among the pigeons in the new series of Mount Pleasant (opens in new tab) (starting Wednesday 11 September) as outrageous new residents Bradley and Tanya. TV&Satellite Week caught up with Womack, who also returns as EastEnders (opens in new tab)' Ronnie Branning this week, to tell us more…
How would you describe Tanya and Bradley?
"They are dysfunctional with an undercurrent of darkness. She is lonely and feels lost and finds Dan a captive audience. I've never played a character as insane as Tanya and it's lovely playing a vivacious, active, physical character because Ronnie in EastEnders is very still and damaged. I worried that people would think I couldn't act because I never move as Ronnie"
What is her relationship like with her daughter?
"Ella has had to be the parent really and is the most mature of the three of them. The mother-daughter relationship is odd because Tanya sees them as friends so she is slightly inappropriate in terms of making Ella feel secure."
What was it like working with Nigel?
"I don't know if it is our theatrical backgrounds but there was an ease straight away. I kept getting him to sing with me and said that we should do a musical together. We will have to workshop an idea, maybe EastEnders: The Musical"
What was the appeal of Mount Pleasant for you?
"It has such an old-fashioned warmth to it and just the most eclectic cast. We sit around at readthroughs and see this strange group of people brought together from all walks of the acting arena but everyone is so talented. Bobby Ball in particular is such a good actor; he is really natural."
Was it nice for you to do more comedy again?
"Yes it was interesting to go back and see how comedy has changed. When I did Game On, it was in front of a studio audience and the gags were all in place but there's a realism to comedy now, which I've really enjoyed."
Was there a north/south divide in the cast?
"Well aside from James Dreyfus, Nigel and I are the only southerners and it is interesting how the banter and the rhythm and the style of acting is very different. There is a real ease with the delivery anyway on the show and you can sense there are two things going on, the obvious gags with the realistic element bubbling underneath."
And what has it been like returning to Albert Square?
"It was nice to go back into that cloud of controversy, I've wafted back in easily with my green smoke and cloak! I can't say much other than she is released from prison but it felt familiar coming back, I did a scene with one actor and I suddenly remembered everything that we'd done before, so the scenes feel really full because there is so much behind the dialogue."
How do you feel about being in two shows at once?
"It's double bubble, which is brilliant for me but for people that don't like me, don't watch telly this September. The two roles are so extremely different, that as an actor it is a dream because you are constantly trying to re-educate the industry and the public about who you are and what you do."
Mount Pleasant returns on Wednesday September 11 at 9pm on Sky Living.
Get the latest updates, reviews and unmissable series to watch and more!
Thank you for signing up to Whattowatch. You will receive a verification email shortly.
There was a problem. Please refresh the page and try again.