EastEnders' Scott Maslen: 'Losing Ronnie has ripped Jack's heart out... and he wants to get away from Walford'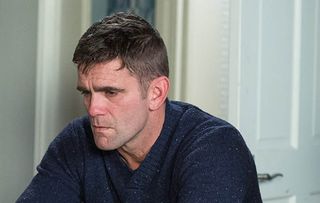 (Image credit: BBC/Jack Barnes)
Jack Branning is utterly heartbroken following Ronnie's death and feels his future lies away from Albert Square, as Scott Maslen reveals to Soaplife
It's hard to see where Jack Branning goes from here. After finally getting his on/off relationship with Ronnie Mitchell back on track, he finds himself a widow after less than 24 hours of marriage.
"He's devastated," says Scott Maslen who plays Jack. "Losing Ronnie has ripped his heart out.
"His whole world has fallen apart and he is really struggling to hold everything together. He loved Ronnie and was the happiest he had ever been on their wedding day."
Is he coping with his kids, Amy (he had with Roxy) and Ricky, and Ronnie's son Matthew (she had with Charlie Cotton)? "They are finding it hard to accept the fact that Ronnie [Samantha Womack] and Roxy [Rita Simons] are gone forever. He keeps having to explain it to them and that is really painful. It will take them all a long time to come to terms with what happened. Jack will never get over it. He will just have to learn to live with it."
What are his plans? "He wants to move away with the children. It is so painful for him being in Walford and he feels it will be easier if he gets as far away as possible."
How will he cope with the funeral? "It's going to be extremely tough for him. There was an unbreakable bond between him and Ronnie and he can't believe she's gone. The funeral will really bring it home."
How is Jack's relationship with Ronnie's mum Glenda at this point? "At first things between them were extremely fraught for obvious reasons, but since then they have been trying to support each other for the sake of the children. However, just when Jack thinks he can rely on Glenda [Glynis Barber] she throws a spanner in the works, which leaves him reeling."
Is Jack pleased to have Max back? "Yes. I don't think Jack could have got through these past few weeks without Max's [Jake Wood] support. His son Bradley died, so he knows what is like to lose somebody you love."
EastEnders, BBC1
Thank you for signing up to Whattowatch. You will receive a verification email shortly.
There was a problem. Please refresh the page and try again.