Stacey gets two Halloween shocks on EastEnders: a proposal and electrocution!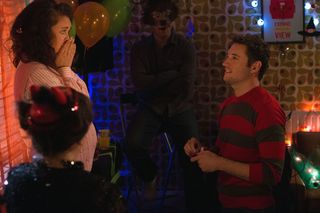 (Image credit: BBC/Kieron Mccarron)
There's romance for Stacey when Martin proposes, then baby tragedy looms, EastEnders (opens in new tab)' Lacey Turner reveals to Soaplife…
Pregnant Stacey Branning gets a couple of shocks this Halloween. First, she finds an engagement ring and guesses that Martin is about to propose… Then Stacey is electrocuted during her party and is rushed to hospital.
"Stacey's dazed, but OK," Lacey (opens in new tab) reveals. "However, it can be dangerous for the baby so she goes straight to hospital."
How does Stacey feel about having her second child?
"She's really excited. She longs for a family with two kids. She's come off her medication and she's a bit worried about that side of things, though."
Does she love Martin (James Bye (opens in new tab))?
"Yes. He's her safe option. I don't think she ever meant to go there with Kush [Davood Ghadami (opens in new tab)]. He was handsome, he worked on the stall next to her and they had a bit of banter. I think it happened through too much wine."
So why does she freak out when she finds an engagement ring?
"She's very much into Martin and she wants her happy ending, but she's been there before with Bradley [Charlie Clements (opens in new tab)]. It feels like something terrible happens every time she opens herself up. I don't think I'd leave the house if it were me!"
What is it like when Martin proposes?
"Actually, it's very sweet. It happens during a Halloween party at their place, so there are a lot of people in their tiny little flat."
Then Stacey gets an electric shock…
"She's bought some dodgy lights from Donna [Lisa Hammond (opens in new tab)] and they don't work, so she gets Lee Carter [Danny-Boy Hatchard (opens in new tab)] around to look at them. He leaves the front off the plug socket off and, when Stacey goes to plug in the music, there's a boom and a bit of smoke. She's thrown backwards, but she isn't unconscious."
Is she scared for her baby?
"Of course. She goes to hospital with Shabnam [Rakhee Thakrar (opens in new tab)], as Martin's busy beating up Lee. She's in a bit of a panic because she can't feel the baby moving. It's also hard for Shabnam as it brings back memories of the loss of her son."
Will the baby be OK?
"You'll have to wait and see…"
EastEnders (opens in new tab), BBC1
Thank you for signing up to Whattowatch. You will receive a verification email shortly.
There was a problem. Please refresh the page and try again.