What would Quentin Tarantino do if he was directing an EastEnders Christmas episode?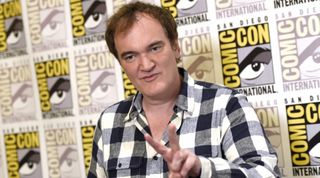 Quentin Tarantino has offered the producers of EastEnders a Christmas storyline.
During an interview with Absolute Radio to promote The Hateful Eight, the movie auteur was told it was the British soap that most resembles his films in terms of grit and body count.
Asked what he would do if he was helming a Christmas episode, the director laughed and said he was flattered.
Quentin Tarantino (Chris Pizzello/AP)
"Jumping off, I guess from The Hateful Eight, it could be a lot of fun to have a Christmas special, invite all the main characters over for a big Christmas party and then somebody poisons the egg nog."
It's a fab idea, but possibly a little tame considering the recent Christmas storyline which saw Arthur 'Fatboy' Chubb (played by ex-cast member, Ricky Norwood) meet a grim death in the back of a crushed car.
To top it all off, Fatboy was claustrophobic.
Quentin Tarantino (Jordan Strauss/Invision/AP)
And is there even a need to mention the child killer that is Bobby Beale?
The boy, who is not even a teenager yet, murdered his older sister Lucy last February in a storyline which marked 30 years of grim lives and horrible deaths in Albert Square.
EastEnders executive producer Dominic Treadwell-Collins tweeted 'amazing' in response to Quentin Tarantino's idea.
Amazing. https://t.co/yR9UWXPUsH
— DomTreadwellCollins (@dominictc) January 5, 2016
Samuel L Jackson, Kurt Russell and Jennifer Jason Leigh star in The Hateful Eight, alongside Walton Goggins, Demian Bichir, Tim Roth, Michael Madsen and Bruce Dern.
Quentin Tarantino with The Hateful Eight cast (Chris Pizzello/Invision)
Set after the Civil War in Wyoming, the film revolves around eight gun-slinging strangers, including a wanted murderer, who seek refuge in a stagecoach stopover on a mountain pass during a blizzard.
The Hateful Eight opens on January 8 in the UK.
Get the latest updates, reviews and unmissable series to watch and more!
Thank you for signing up to Whattowatch. You will receive a verification email shortly.
There was a problem. Please refresh the page and try again.