Why EastEnders' Letitia Dean 'loved' Sharon being battered senseless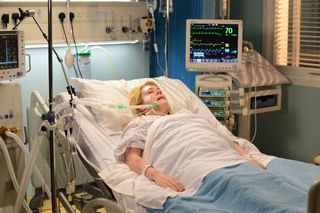 EastEnders star Letitia Dean (opens in new tab) has confessed Sharon's coma had its up side for her - as she just had to lie in bed all day at work.
Sharon (opens in new tab) is set for a hospital stay after she is attacked by masked thugs in her bar The Albert on Monday, June 16.
But Letitia said: "I had a lovely, comfortable bed, so it was really relaxing."
And she insisted she didn't mind filming without make-up, as it was good to have a break from Sharon's dolled-up look.
"I loved it," she said. "Though it's hard to stop your eyes flickering and the tube thing was a bit weird."
Letitia, 46, first appeared in the soap in 1985 and grew up in The Queen Vic as the adopted daughter of Den and Angie Watts.
She returned in 2012 after a six-year break and is delighted that Sharon is now back with Phil Mitchell, played by Steve McFadden (opens in new tab), who she first had a fling with in 1992 when she was married to his brother Grant (Ross Kemp).
She and Phil have been on and off ever since, but Letitia thinks "they're generally happy" now. "They've got such history," she added, "they think they know each other inside out."
But oblivious to what's happened to Sharon over at The Albert, Phil and his ex-girlfriend, Shirley Carter (Linda Henry), find themselves alone at The Vic - and it becomes clear there are still feelings between them.
Letitia revealed: "Sharon's arrogant enough to think she is the woman for Phil, and that goes all the way back to having an affair with him when she was married to his brother.
"She obviously doesn't like the fact that Shirley is around, but she's not threatened."
It's starting to look like she should be, though…
EastEnders (opens in new tab), BBC1, Monday, June 16.
- Press Association (opens in new tab)
Get the latest updates, reviews and unmissable series to watch and more!
Thank you for signing up to Whattowatch. You will receive a verification email shortly.
There was a problem. Please refresh the page and try again.