Happy Christmas for the Carters in EastEnders?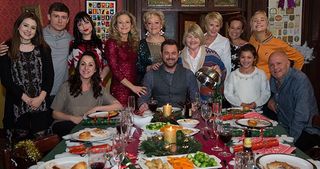 (Image credit: BBC/Jack Barnes)
After last Christmas's explosive revelations, the Carters will be hoping for a somewhat happier Christmas this year…
After a turbulent year, the Carters are reunited for Christmas lunch!
The family get into the festive spirit by donning full Christmas fancy dress as they prepare for The Vic's Christmas grotto.
Shirley is delighted to welcome Jade to the Square for a pre-Christmas celebration
Dean, Buster and Shirley hope to make their first Christmas with Jade memorable. But will she remember it for all the right reasons?
Linda and Mick hope to put their troubles behind them as Mick dresses up as Santa!
Ho ho ho! Mick is in his element entertaining the children of Albert Square…
…and he's full of Christmas cheer. Will his feelings of goodwill to all men last?
In The Vic's Christmas grotto, Linda does her best Mrs Claus impression…
…while Mick greets the children as Santa!
Jade is delighted to meet Father Christmas…
…and doesn't realise that Mr and Mrs Claus are actually her uncle and aunt, Mick and Linda.
Later, it's time for Mick to kill Goosey Lucy, who is set to be the centrepiece of the Carters' Christmas dinner…
…will he go through with the deed or will the landlord's soft side get the better of him?
Putting their troubles behind them, the Carters sit down to Christmas dinner together.
Mick and Aunt Babe put their differences aside as they sit down to eat.
Will Aunt Babe reveal a Christmas goose? Or did Mick bottle it at the last minute?
Determined to have a happy Christmas this year, Mick has pulled out all the stops…
…and presents Linda with a beautiful wedding dress for their impending nuptials.
Linda is over the moon with Mick's thoughtfulness. Will it be happily ever after for The Vic's loved-up couple? Watch EastEnders on BBC1 from Monday, December 21. ...
Thank you for signing up to Whattowatch. You will receive a verification email shortly.
There was a problem. Please refresh the page and try again.