Jake Wood brings Max Branning home to Albert Square!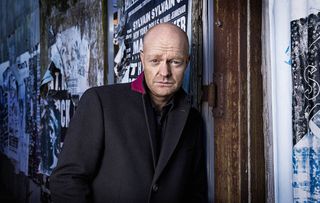 (Image credit: BBC/Nicky Johnston)
Jake Wood returns to EastEnders after an 'amazing' year off and tells us a bit about menacing Max Branning's reappearance in Walford…
Has Max changed a lot since we last saw him? "Being wrongly imprisoned for killing Lucy Beale has had a profound effect on Max. He is very different to when you last saw him."
 What sort of welcome can Max expect from the Albert square residents? "Some will be happier to see him than others. I hope his daughters, Lauren and Abi, will be pleased to see him, and hopefully Jack, too. I'm not sure how welcome Max will be back in the Square at first. Especially by the Beales!"
Can he forgive the Beale family for what they did to him? "They have to come to some sort of understanding if they are to live side by side, but Max spent all that time in prison because Jane and Ian lied in court."
What's in store for Max? "He causes a lot of friction, that's all I can say. At certain times, the audience will know more about Max than those around him. It's going to be incredibly exciting."
What is his relationship like with Lauren and Abi? "A little bit fractured. Things are better between Lauren and Max than Abi and Max. Lauren is more pleased to see him. Hopefully Abi will come round."
 Why did you decide to go on a break from EastEnders? "I did nine years on the soap without a break and the schedules can be very demanding.  I have a very young family, I'd just done Strictly Come Dancing, and I was exhausted. It also gives the character a reboot and that was in the back of my mind as I love EastEnders and I want to be here longer term."
How did you spend your time off? "I was at home being a dad. I did every school run, watched every school production and went to every sports day. I just immersed myself in family life. I knew I was coming back, so there was no pressure."
You weren't tempted by other acting roles? "I got offered bits and pieces but I didn't want to do much as it was about spending time with my family. I felt very lucky to be in that position and it was an amazing year."
What are you doing for Christmas? "It will be a family Christmas at home with the children. As for Christmas shopping, I will be running round on Christmas Eve sweating with the rest of them!"
Get the latest updates, reviews and unmissable series to watch and more!
Thank you for signing up to Whattowatch. You will receive a verification email shortly.
There was a problem. Please refresh the page and try again.