Phil is revealed as Denise's baby daddy in EastEnders, not Kush!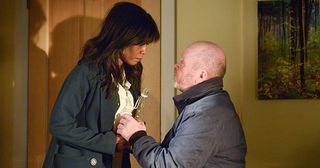 (Image credit: BBC/Kieron McCarron)
Denise thought she was pregnant because of her hot fling with Kush. Then she found out the baby is the result of her drunken one-night stand with Phil!
Denise [Diane Parish] was stunned when she discovered she's pregnant. Whoops! She and Kush were only supposed to be having a bit of fun. But now she knows her baby's father's name is Phil and there's nothing funny about that…
Shock, horror and a little fear… They were written all over Denise's face in EastEnders on Friday night, when she realised that her surprise pregnancy is the result of her drunken sofa sex with Phil [Steve McFadden] in April.
There she was, thinking the hot passionate sex she'd had with hot, passionate Kush Kazemi [Davood Ghadami] had made her baby.
And her mind was in a panic, as she was terrified of telling all to her new best friend Carmel – Kush's mum.
Kush's mind was racing, too, after Carmel [Bonnie Langford] told him Denise is pregnant. He confided in Stacey in the Friday episode: "I got Denise pregnant but she doesn't seem to want me to know about it…" he told her. "Maybe she doesn't think I'm father material."
The hurt was written all over Kush's face… His first son, with Shabnam Masood [Rakhee Thakrar], died in the womb. His second son, Arthur, is the result of his one-night stand with Stacey [Lacey Turner] and lives with her and Martin [James Bye].
"Go after her," Stacey told him. "Go on."
And Kush raced to be with Denise at her doctor's appointment.
"I'll stick around," Kush promised. "I'll give you support. I'll be a good dad."
"I haven't really decided what I'm going to do yet. Anyway, I guess there's still time as I'm only two weeks gone."
"Two weeks?" the doctor asked. "I'd say you're 18-19 weeks, at least."
And then Denise knew that Kush couldn't be the father.
She held her head in her hands as the awful truth dawned on her: she is carrying dying alcoholic Phil's baby.
"Oh, no! No! No!" she wailed, as the poor doctor looked on.
No one, including Denise, ever pictured her with Phil. She couldn't stand him. Still can't.
The night they went forth and multiplied, Denise was angry with her daughter Libby, who had accidentally fallen pregnant and was determined to have a termination. Denise wanted her to keep the baby and promised she would help.
Desperately unhappy and lonely, she went out drinking and found herself drowning her sorrows with Phil. One drink led to plenty more, which led to the sofa at his place and…
Congratulations! Now Denise doesn't need the baby Libby [Belinda Owusu] was having.
But this is far from good news. Will she tell Phil? The shock could kill him!
And his wife Sharon could kill her if she finds out.
Or will Denise decide she can't keep this baby? Libby would have plenty to say about her mum doing the very thing she begged Libby not to do. And there's her other daughter, Chelsea [Tiana Benjamin]. What will she say?
A few days ago, Denise thought her biggest problems were the menopause and how to tell Carmel she was sleeping with her son.
Not now.
"Look at me! Knocked up at 47!" she said.
Now there's only one thing for her to focus on: what is she going to do about this pregnancy?
EastEnders, BBC1
Get the latest updates, reviews and unmissable series to watch and more!
Thank you for signing up to Whattowatch. You will receive a verification email shortly.
There was a problem. Please refresh the page and try again.