Who's the daddy? Soaps' Most Shocking DNA Tests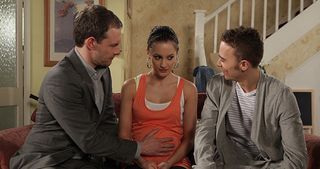 Photos of soaps' most surprising and sordid paternity mysteries
Who fathered Kylie's baby Lily became one of The Street's biggest storylines in 2013, pushing David (who was actually the father) to try killing his own brother!
In 2010, baby Jack was the product of a steamy affair between street lothario Kevin Webster and Tyrone's missus Molly Dobbs! Tyrone was heartbroken to discover he wasn't the daddy....
In a cruel Emmerdale twist (and after a DNA test) poor Adam Barton discovered his uncle - James - was actually his dad! Naughty Moira.
We waited with baited breath to find out who fathered Vanessa's baby. Kirin? Adam? Oh, Adam.
Foxy Roxy had affairs with Jack Branning and Sean Slater and the two potential fathers scrapped in EastEnders. We were as shocked as Sean to discover Amy was Jack's...
Oh, Heather! Not two but FOUR potential hotties to choose from. A brilliant (but slightly unbelievable) EastEnders storyline saw little Darren being outed as the father in 2009!
Bianca was convinced that Ricky might be the father of Sam Mitchell's baby in 2010. He wasn't though, little Richard turned out to be Jack's… AGAIN!
Linda Carter's baby had two potential fathers after her ordeal at the hands of hideous Dean. Blood tests revealed that Mick (Danny Dyer) was little Oliver's father though! Yay!
In Corrie, Tracy conned poor Roy into thinking he'd fathered her daughter, Amy - Roy and Hayley paid thousands for her, but when Tracy revealed Amy was Steve's, the pair were heartbroken....
Charity wasn't sure if little Noah was Chris Tate's in 2004, because she'd been secretly copping off with her cousin, Cain. Of course. DNA tests proved he was Chris's, though.
Ever heard of protection? Mercedes, if you will sleep with your boyfriend's dad, you'll NEVER know who fathered your baby. Luckily it was Riley's, but Carl took his grandson, Bobby,...
Sinead takes advice from the McQueen Guide to Parenting by sleeping with not one but TWO randy Roscoes. Joe turned out to be the daddy of Joe Junior.
Sinead + Freddie Roscoe + Tony + Ste = a paternal nightmare. Sinead really ought to stop putting it about so much. It turned out that Ste, the least likely candidate, fathered Hannah....
Look at little Josh in his Burberry number! He was the result of a sordid one night stand between mum Maxine and dishy Doctor Matt, who should have known better. Poor Ashley.
It seems they don't have contraception Down Under either, as Josh and Daniel were both candidates to be Amber's babydaddy. But who will it be?
Gianni just wanted to cook his meatballs in EastEnders in 1999, but mum Rosa wasn't sure if Giuseppe or old flame George Palmer was his dad. A DNA test proved it *was* Giuseppe. Phew! ...
Get the latest updates, reviews and unmissable series to watch and more!
Thank you for signing up to Whattowatch. You will receive a verification email shortly.
There was a problem. Please refresh the page and try again.