Will Brenda Walker marry Bob Hope in Emmerdale?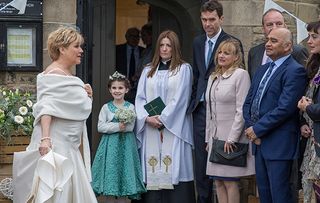 Brenda Walker and Bob Hope's wedding day
It's time for Brenda Walker and Bob Hope's big day and Laurel Thomas is cringeing. After the stag and hen dos take place, the couple prepare to tie the knot. But when Brenda heads to the church in her gown, she arrives to find Bob has vanished. Is he too in love with secret lover Laurel to be able to go through with it?
Charity's nightmare with Bails continues - can the barmaid let it lie?
Zak gets a shock when Lisa returns. Bernice worries about her relationship with Daz, and Gerry gets hold of the voicemail Lachlan's been trying to hide…
Will Brenda Walker marry Bob Hope?
Will Brenda Walker marry Bob Hope?
Lachlan and Gerry discuss 'the voicemail'.
Lisa returns to Emmerdale and husband Zak.
Charity tells Vanessa she's been spying on Bails.
Police officers arrive at The Woolpack to warn Charity to stop hounding Bails.
Charity gets a scare when Bails turns up at her house and threatens her.
It's Brenda's hen do…
… Laurel cringes as she attempts to keep up appearances among their friends who have no idea she's been sleeping with Brenda's fiance Bob.
As the wedding looms, Doug urges Laurel to tell Bob how she feels.
Bernice is taken aback by Daz's reaction when she asks him to move in with her.
At the pirate ship, Doug finds Bob had been locked in.
It's Bob's wedding day and he's far from ready.
He legs it to the church...
Brenda arrives at the church to find there's no sign of Bob.
Will the wedding go ahead? Watch Emmerdale on ITV from Monday 7 May.
Get the latest updates, reviews and unmissable series to watch and more!
Thank you for signing up to Whattowatch. You will receive a verification email shortly.
There was a problem. Please refresh the page and try again.