Heartbreak ahead for Paddy Kirk as Chas Dingle reveals their unborn baby will not survive…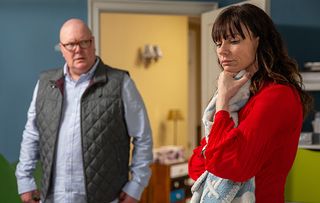 Chas Dingle tells Paddy Kirk their unborn child has bilateral renal agenesis and will not survive
Paddy and Marlon are all set to host a baby shower for Chas. But the vet's excitement and joy vanishes when Chas finally tells her fiance that their unborn child has been diagnosed with bilateral renal agenesis and will not be able to survive outside the womb.
The plot thickens for Dan and Kerry as the investigation into Amelia's disappearance continues. After Daz is taken in for further questioning as the case takes a turn, Dan and Kerry are later asked to make a televised appeal for information.
Debbie has the week from hell as Joe dumps her, and Sarah is rushed into hospital after being questioned by police for joyriding with Noah Tate and co.
Laurel is stunned when her mild-mannered dad Doug is taken away by the police for vandalising a cop car. Brenda tries to get her own back on Laurel and Bob.
Having been to hell and back since the B&B collapse which locals think killed Gerry and prompted con artist Terry to fleece Doug, the OAP is stressed. He snaps and thrashes the daylights out of a cop car!
Doug is taken in by police for his vandalism.
Brenda's stung when she finds out Laurel is taking Cathy and Heath to the cinema.
Later, she takes pity on outcast Doug.
After a rucksack stuffed with cash is found, suspicious Liv accuses Lachlan of being behind the B&B burglary.
Joe dumps Debbie after being warned to keep out of her life by her daughter Sarah.
Debbie's week from hell continues with Sarah then joyriding in a car with Leanna and co!
The school kids are in trouble when the police catch up with them.
Will Sarah deflect attention from her crime when questioned by the police?
Chas struggles to keep her emotions in check in Paddy's company.
The baby shower is prepped but Chas just can't face it.
Paddy asks Chas what is wrong.
The vet is stunned when his fiancee reveals the truth about their unborn baby.
Paddy refuses to believe their child won't make it and clings to the hope that Chas misunderstood what the sonographer has told her about their baby daughter.
The police want to talk to Daz Spencer again in conjunction with Amelia's disappearance.
DS Benton asks Kerry and Dan to go on TV to appeal for information on missing Amelia.
Dan and Kerry attend a press conference appealing for help to find Amelia... Watch Emmerdale on ITV from Monday 11 June.
Get the What to Watch Newsletter
The latest updates, reviews and unmissable series to watch and more!