Emmerdale fire horror! Pasha Bocarie reveals what happens when Rakesh torches the Mill – with Nicola inside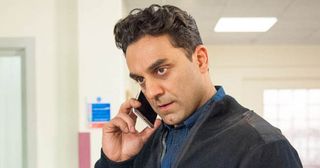 Rakesh Kotecha is desperate for money, so plans an insurance scam in Emmerdale, which ALWAYS goes wrong in soaps, as Pasha Bocarie explains
Rakesh Kotecha is desperate for money in Emmerdale – desperate enough to commit arson. But he nearly kills Nicola… Star Pasha Bocarie tells Soaplife the whole sorry story...
Rakesh didn't mean for anyone to get hurt in his insurance scam, did he? "He thought he had a foolproof plan to burn down the Mill and get the insurance money. He is horrified when he sees that Nicola King [Nicola Wheeler] was in the building."
Has Rakesh got any money? "No, he hasn't and he owes a lot as he has borrowed money from other people against the Mill. He is desperate. He is still reeling from losing Kirin [Adam Fielding] and when Kirin asks for money he wants to send it to him to make amends for what he did over the DNA test. He doesn't want his son's life ruined. He fears this could be the last time he hears from Kirin, so he feels he must get that money at all costs and this is where it all goes wrong."
What is happening with the conversion at the Mill? "It's Nicola and Jimmy's old house and Rakesh is converting it into flats. Rakesh has poured all his money into it and is horrified when Ronnie Hale [John McArdle] says the building is infested with dry rot which means it is worthless. Rakesh tries to brush that under the carpet; I don't think he can deal with it. He wants to continue and try and sell the building, but Ronnie refuses to work there as he says it's too dangerous."
What makes him decide to start a fire? "Jimmy suggests getting re-plastering done on insurance and that gives Rakesh an idea. It is a last resort, but he has a look at the insurance form and sees that if the place burns down he will get enough money to pay his debts and get money for Kirin."
What does Rakesh do? "He demolishes the place and then sets fire to it. However, he doesn't realise Nicola has snuck in – she and Jimmy [Nick Miles] were using the place as a love nest."
How does he find out about Nicola? "He sees her being carried out on a stretcher. He feels terrible, as money does not compare to a life. But he thinks he has got away with it."
Emmerdale, ITV
Get the What to Watch Newsletter
The latest updates, reviews and unmissable series to watch and more!