Aaron dumps Alex! Robron back on? Emmerdale's Danny Miller reveals more!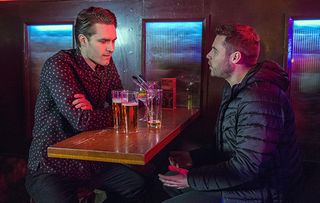 Emmerdale actor Danny Miller has revealed that when Aaron sees Robert flirting with another man he realizes how much he wants him back
Aaron invites Alex to move in with him. But a trip to a gay bar sees the jealous Dingle dump the dishy doctor and approach Robert with something important to say. Actor Danny Miller has talked to Soaplife about the latest twist in the 'Robron' saga…
What's the story?
Aaron Dingle has struggled to get over Robert Sugden and it looks as if he's finally there when he invites Alex Mason to move in with him. However, when he sees his ex flirting with a new man in a gay bar, Aaron is consumed by jealousy and it spells the end of his relationship with Alex.
What's happening in Emmerdale? See the latest soap storylines
Soaplife's interview with Danny Miller about Aaron, Alex and Robert...
Soaplife: Why does Aaron ask Alex to move in?
Danny Miller: "Partly because he feels guilty about almost cheating with Robert, but also because Alex is having a tough time. There's a problem with his boiler and he's in trouble at work for not checking something thoroughly. He's suspended pending an investigation. Aaron's aware his mental state is not in the best place. He doesn't want to put any more stress onto Alex."
S: What happens at the gay bar?
DM: "Victoria Sugden invites Aaron to a big girls night out and he arrives at the bar to see Robert getting a phone number from an attractive bloke. The fact Robert's being openly gay and this is not a prospective new heterosexual relationship opens up a whole new level of jealousy for Aaron."
S: What happens when Alex shows up?
DM: "Alex told Aaron he was going out with a workmate, so he wasn't expecting to see him. He makes out he's there to see Alex and it kind of adds to the drama of the whole situation. Bernice White and Vanessa Woodfield pull Robert onto the dance floor, so that he doesn't spot Aaron."
S: Why does Aaron then dump Alex?
DM: "It is one thing too many. He also sees Alex as the only obstacle in his way of getting back with Robert. He was only seeing Alex because Chas Dingle said it was a good idea and Liv Flaherty urged him to move on. Aaron explains to Alex he misses Robert and he wants to be with him. He also reveals he nearly cheated with Robert."
S: Is it over between him and Alex for good?
DM: "Yes. He can see Alex is a good person. He's a doctor, he's handsome, he's clever and he's funny. He probably wouldn't cheat or lie to him, either. But the fact is Aaron's feelings for Robert are too strong."
S: Do you think Aaron and Robert could make it work this time round?
DM: "The time apart has given Aaron a chance to look at things from afresh. A lot has happened. Robert has Seb and he's had to man up and be a dad. He's matured and Aaron's been a support to him. It will be interesting to see if things are different this time round."
Emmerdale, ITV
Get the latest updates, reviews and unmissable series to watch and more!
Thank you for signing up to Whattowatch. You will receive a verification email shortly.
There was a problem. Please refresh the page and try again.