Aaron Dingle's scared to show his new love his scars says Emmerdale star Danny Miller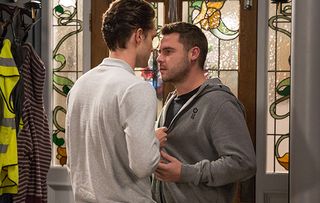 Danny Miller reveals that Aaron Dingle is worried about sexy doctor Alex Mason discovering he used to self-harm… and that he's not totally over Robert Sugden!
Robron has been a soap phenomenon, but a reunion between Aaron Dingle and Robert Sugden looks unlikely with sexy doctor Alex Mason taking an interest in Aaron. But when Alex moves in for a kiss, Aaron pulls away. Later he removes his t-shirt and looks at his scars. Is this the real reason he didn't go any further?
What's the story?
"Aaron is really keen on Alex," actor Danny Miller told Soaplife. "But he has got a lot of history that he still has to let Alex know about and he is worried about how he might react."
What's happening in Emmerdale? See the latest soap storylines
Danny Miller reveals all to Soaplife about Aaron's concerns over letting his new man see his self-harming scars in Emmerdale
Soaplife: So how are Aaron and Alex getting on?
Danny Miller: "They're going well, but Aaron is worried that Alex will freak out if he finds out about his past. Other than that, the relationship is very stable."
SL: Does that mean he is ready to move on from Robert?
DM: "He is, but there is still that old flame flickering and I don't think it will ever go out. He wants to move on for the sake of his mental health more than anything. It was a very messy relationship with Robert."
SL: What happens when he and Alex go on a date?
DM: "They go to the pub, which is very much his sister Liv's suggestion. Robert walks in and sees them. He's quite sad as he can see that Aaron is moving on. It's a very awkward moment, especially as it's the first time Aaron has had a very public date in a while."
SL: Why doesn't Aaron want to go back to Alex's place?
DM: "It's because he has scars, which means he will have to talk about his self-harm. It is a very difficult thing for him to talk about. He knows that Alex sees this kind of thing all the time in the course of his work, but that's just it, he doesn't want to bring that into his personal life."
SL: Is Aaron ashamed of his scars?
DM: "In a way, he is, but also he has justified in his own mind that they represent a very difficult and dark time in his life."
SL: Would you like to see him and Alex make a go of things?
DM: "Yes. I think for Aaron's sake, it would be nice for him to go with somebody who is not going to try and change him or mess up his life. However, I am also a big Robron fan, which means I'm kind of torn really."
SL: What is in store for Aaron in 2018?
DM: "I hope he is going to be more content with his life. It would also be nice to see him take care of Liv, as opposed to the other way round."
Get the What to Watch Newsletter
The latest updates, reviews and unmissable series to watch and more!