Emmerdale's Emma Atkins: 'Charity's over the moon when Cain decides to go to France with her'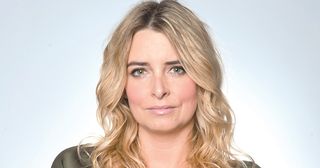 Emmerdale actor Emma Atkins says Charity Dingle is joining Debbie in France – and Cain is going with her!
Things are never simple where Charity Dingle and her cousin Cain are concerned. They're back together again, but in a fit of pique, Charity announces that she is leaving Emmerdale to be with Debbie in France.
She fully expects to go alone, but Cain then turns round and says he will go with her, actress Emma Atkins tells Soaplife.
How does Charity feel about the relationship with Cain? "She is delighted, but wants more commitment. She needs to know that he loves her and there is no going back so she is pushing for more assurance, which winds him up."
Does she worry that he still loves Moira? "That will always be in the background for Charity. I think she knows that deep down, Moira is better for Cain."
How does she feel when Debbie says she is staying in France? "It hurts. Debbie says she is staying in France for good and Charity gets it because it is the kind of thing she would do. Debbie tries hard to get in touch with Cain to tell him the news, but she can't so the responsibility is on Charity's shoulders and she is dreading telling him."
How does Cain react when he hears? "He goes pretty crazy. He smashes up the garage and then they have this huge row in the pub. What comes out of it is that Charity realises that Cain loves Moira and it stings."
What happens next? "She's had a spat with Noah who says that Moira was a better mother than her, so she is feeling really unstable. Charity decides to cut her losses and be with Debbie."
How does Cain take the news? "She explains that she is leaving for France and he suggests that he goes too. She's gobsmacked and over the moon."
Is Charity nervous when Cain goes to break the news to Moira? "Yes she is. She is so insecure and worries that Cain might realise he is still in love with Moira…"
Get the latest updates, reviews and unmissable series to watch and more!
Thank you for signing up to Whattowatch. You will receive a verification email shortly.
There was a problem. Please refresh the page and try again.