Curse of the mummy sees Chas exit Emmerdale, reveals Lucy Pargeter!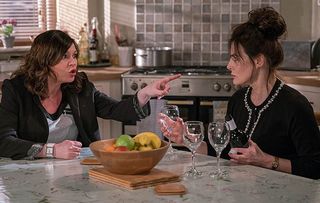 Chas can't accept mum Faith's return to the village so she exits Emmerdale for Ireland, reveals Lucy Pargeter...
One person who definitely won't be rushing out to buy a Mother's Day card this year is Chas Dingle, who can barely look at mum Faith without snarling. But Faith's determined to get closer to her daughter and, when Debbie steps in to help, Chas isn't feeling the love. "She is determined not to make things up with her mum," Chas actress Lucy Pargeter tells Soaplife. "She wouldn't be bothered if she got on the next bus and left."
What's the relationship like between Chas and Faith? "It isn't good at all. They're at loggerheads and Chas would rather her mum went back to wherever she came from. She doesn't like her being around and wheedling her way back into the family."
But Faith is trying really hard… "She is. Faith [Sally Dexter] continuously tries to make things up to her daughter. She's like, 'I'm trying here! Why aren't you giving me anything back?' She wants to explain herself and she's trying to have that conversation."
Why does Chas hate her so much? "Everything stems from Chas' upbringing with Faith and how she left her and her brother, Cain [Jeff Hordley], and disappeared out of their lives. I don't think Faith's parenting skills were brilliant when she was around either."
Why can't Chas forgive her? "She blames her mum for all the mistakes she made with her own son, Aaron [Danny Miller]. The trouble is, Faith reminds her that she hasn't always been the best mum either, but she didn't exactly have a great role model."
How does Debbie try to patch things up between Faith and Chas? "Chas asks niece Debbie [Charley Webb] if she can help as she's really worried about Sarah, who's going though cancer treatment. Debbie invites her to have lunch at the farm and says, 'Don't worry. Faith isn't there. She's in town.' But when she turns up, Faith is there and Debbie forces her to is sit down and chat."
We hear a situation with Liv Flaherty's mum, Sandra, gives Chas a way out… "Yes. Sandra's had an accident in Ireland, where she lives. Because of all that's happening with Faith and because Aaron's in prison, Chas is Liv's acting mother and she agrees to take Liv [Isobel Steele] over to see her mum."
Does that mean you're going to be leaving Emmerdale, Lucy? "It will be me gone for a while, though not for too long. I'll be in Ireland having a lovely summer, but I'll be back soon…"
Emmerdale, ITV
Thank you for signing up to Whattowatch. You will receive a verification email shortly.
There was a problem. Please refresh the page and try again.