Chrissie discovers the terrible truth about her father, reveals Emmerdale's Louise Marwood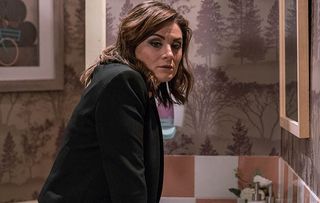 Lachlan White kidnaps Tim Richards and Chrissie is devastated by what she discovers… And the fall-out is explosive, explains Emmerdale's Louise Marwood
Home Farm is never Emmerdale's happiest place. Now Chrissie has discovered that son Lachlan has kidnapped 'Simon', who she quickly discovers is actually her real uncle, Tim Richards. And her adoptive dad Lawrence knew all about it!
"Chrissie feels so betrayed by Lawrence," Louise Marwood told Soaplife. "I'm not sure she can forgive him for this."
Will she feel differently, though, after Lawrence ends up in hospital?
Chrissie actually fancied 'Simon', didn't she? "She was completely smitten by him. He's a real man and she's only been with boys until now. She thought they were getting on so well. Chrissie couldn't understand why he wasn't into her."
Is she suspicious of Lawrence? "He's been acting strangely for a while now, so she doesn't really notice anything different."
What about Lachlan and his friend Gerry? "Chrissie worries about Gerry's influence on Lachlan [Thomas Atkinson] all the time. She's concerned that her son will be easily led."
When does Chrissie realise Lachlan has taken 'Simon' hostage? "She hears a scream and she finds him with Gerry [Shaun Thomas] and Lachlan. She can't believe what Lachlan's done and what he's capable of. Simon explains he's her uncle, Tim, and tells her what happened to his brother, her father! She can't believe what she's hearing. She looks to Lawrence and he doesn't deny it."
How does Chrissie feel? "She feels totally betrayed. It's been one lie after another from ALL of them. She also feels humiliated and I actually feel sorry for her."
Will she ever get over this? "I can't see her ever getting closure now because she'll never hear from the one man she yearns to talk to – her real father. Chrissie feels utterly betrayed by Lawrence. She's so angry at him and she's devastated."
But he only did it to protect her… "Yes, but it's probably done more harm than if he'd been honest with her from the outset. He tries to make amends, but it's too late. Chrissie will struggle to forgive Lawrence."
Even when he's rushed to hospital? "Tellingly, Lachlan and [other daughter] Rebecca are at his bedside, but Chrissie isn't…"
Emmerdale, ITV
Get the latest updates, reviews and unmissable series to watch and more!
Thank you for signing up to Whattowatch. You will receive a verification email shortly.
There was a problem. Please refresh the page and try again.